Where to start when you want to remodel your home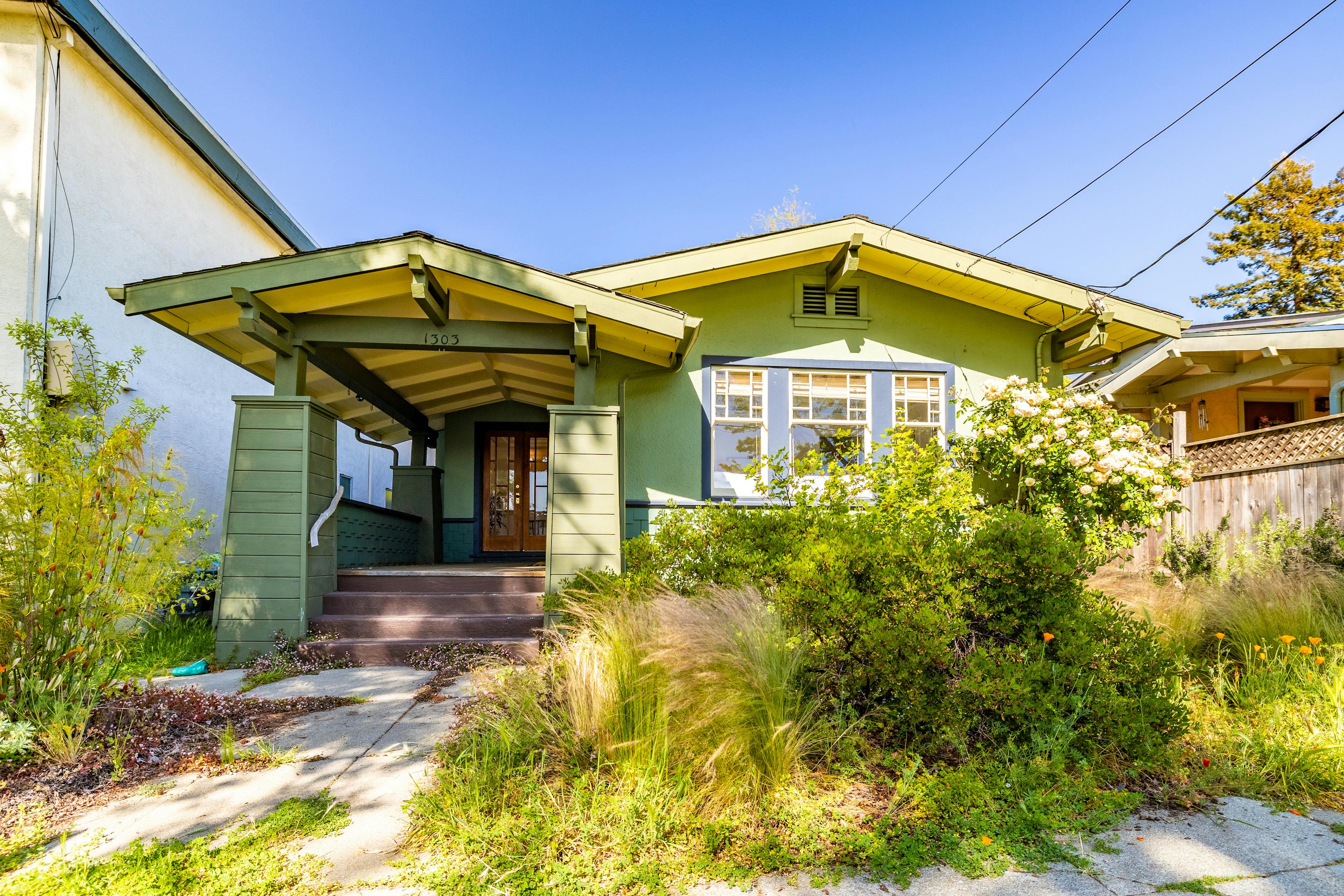 What you'll learn:
How to prioritize projects
Building a remodel budget
Paying for your remodel
The remodeling process
The idea of remodeling your entire home can easily overwhelm the average homeowner. But breaking down your remodel into several projects helps you understand your costs, prioritize your plans, meet your budget, and hire the right professionals to get the job done. 
It can all be a bit overwhelming — but you've come to the right place! Here, we'll give you the roadmap you need to make your home remodeling ideas a reality— whether you're planning an extreme home makeover or tackling a few DIY home improvement projects.
Plus, you'll get tips on how to save time and get a better return on your investment. Let's jump right in.
How to prioritize projects
When you want to change a lot, prioritizing home projects can feel impossible. But you can make things easier by focusing on the main goal of your remodel. Your main goal will typically fall into one or two of these categories:
Create space: You have a growing family or expect a family member to transition to living with you. 
Upgrade space: You want higher-end finishes, a chef's kitchen, or other amenities. 
Boost efficiency: You want to lower your utility and maintenance costs. 
Enhance functionality: You want more light, an open floor plan, or another adjustment that makes your living space more comfortable. 
Increase your home's value: You want to invest in your property to boost its value and raise its sales potential. 
Make your home accessible: You need your home to better fit your accessibility needs.
Correct previous mistakes: You bought a home that had prior renovations that weren't done properly or need to be fixed to adhere to local building codes. 
Prioritizing your plans helps you make the most out of your budget. If efficiency is your main goal, new windows and home systems (HVAC, plumbing, electric) should receive more of your budget. If functionality is at the top of your list, your budget should go to improving your living room, dining room, and kitchen design.
The Realm dashboard gives you an easy way to explore projects and think about which you want to tackle first. On your dashboard, you can add different projects and get accurate cost estimates. You can even customize projects with more affordable or high-end finishes to see how that impacts your overall budget. Plus, you'll be able to see how much each project will add to your home's value.
When you have a clear idea of your goals, it's easier to choose which projects to spend more or less on, which to spend time saving for, or which to skip altogether.
Plan your home remodel with Realm
Home remodeling costs
It's difficult to say for sure what your home remodel will cost because everyone's home remodeling plan is different. Several factors affect the costs of your remodel. These include:
Project size and scope
The complexity of your project(s)
Home and room size
The types of room(s) you're remodeling, with bathroom and kitchen remodels costing more
The extent of structural work needed
Materials and labor
Materials (countertops, backsplashes, flooring, fixtures, etc.)
Local prices for permits and labor
Type(s) of professional you hire
Location and home specifics
Location, with urban areas tending to cost up to 40% more
The type of home (single-family, historic home, etc.)
The age of your home, with old houses costing more
Worksite preparation needs, such as clearing landscaping
The good news is that you can tweak your plans to better fit your needs in various ways. For example, if you need new flooring, you may opt for less expensive vinyl over natural wood. The professional(s) you hire will help you meet your budget, so don't be afraid to ask for help cutting costs. You can also use your Realm project plan to help you manage your budget and ensure your investment in remodeling will pay off whenever you decide to sell (more on this later).
Below is a table to help you understand the range of costs typical of whole-house remodels, with descriptions of what each type of remodeling involves.
| | | |
| --- | --- | --- |
| Type of remodel | What it involves | Cost range |
| Basic | There are little or no changes to floor plans, swap for budget finishings, install prefabricated cabinetry, and use synthetic flooring. | $15,000 - $40,000 |
| Mid-level | Some changes to floor plans, upgrades to mid-range finishings, natural flooring, some custom work. | $40,000 - $75,000 |
| High-end | Dramatically reshaping floor plans, swapping for luxury or high-end finishings, custom cabinetry, and/or remodeling in expensive areas (such as San Francisco). | $75,000 - $200,000 |
| Rehab | Repair and cleanup for homes in need of significant renovation. | $20,000 - $75,000 |
| Full gut renovation | Stripping the home down to the studs and completely rebuilding the inside. | $100,000 - $200,000 |
Budget by project
While your remodeling budget will ultimately depend on your available funds, there are some guidelines you should follow when dividing your budget across multiple projects.  
There are two ways to approach budgeting for your projects. First, consider the spending limits recommended by the National Association of Home Builders (NAHB). The NAHB advises homeowners to create their budget based on their home's value, detailed in the table below. 
The second way you should consider budgeting is by understanding the average costs for remodeling by room. The low-end estimate in the table below represents the least you can expect to pay on remodeling. You'll get basic finishings and forgo any significant work, while the high-end estimate represents the maximum a project will likely cost. 
If you're considering a larger budget, be sure to estimate the return on your investment. It's common to overspend on a remodel because you're working with factors beyond your control, like the average prices in your area. Even if you're paying a reasonable rate for a renovation in your location, you'll want to consider the importance of your remodel for your comfort versus how much value you're hoping to recoup from the investment.
For example, a high-end kitchen won't fetch as much when you're selling if the average home price in your area is low. It may still be worth it to you to get the home you desire, but you should be aware of any trade-off you're making.  
Average renovation costs
| | | | |
| --- | --- | --- | --- |
| Room | Sugg. maximum budget (% of home value) | Low-end estimate | High-end estimate |
| Kitchen | 16% of home value | $4,500 | $75,000 |
| Small Bathroom | 5% of home value | $2,500 | $15,000 |
| Large Bathroom | 7% of home value | $5,500 | $30,000 |
| Living Room | 10% of home value | $1,500 | $5,500 |
| Primary Bedroom | 13% of home value | $1,500 | $11,500 |
| Bedroom | 3% of home value | $1,000 | $9,000 |
| Basement | 15% of home value | $10,000 | $40,000 |
| Exterior (windows and siding) | 9% of home value | $5,000 | $27,000 |
| Roof | 4% | $5,500 | $15,000 |
If you have a large home or are upgrading to luxury finishes, you may see higher costs. You can lower your expenses by upgrading parts of your home or even parts of a room over time. For example, you could start by installing a bathroom vanity instead of taking on an entire bathroom remodel. 
Paying for your remodel
Figuring out the best way to fund your remodel is just as important as deciding the rest of your remodel plan. While you can undoubtedly use cash reserves, most homeowners opt to finance their remodel. 
Financing allows you to distribute the cost out over time and protect your cash reserves. On the downside, financing increases your debt-to-income ratio, increasing your monthly payment, and costs you more in the long run. 
Don't be afraid to finance if that's the best option for you. But, be sure to use the following steps to get the best out of your financing:
Decide how much you need and estimate how much financing you can reasonably expect to get. 
Research the loan options available to you. Common loan types include home equity line of credit (HELOC), cash-out refinance, and home equity loans.
Decide which lending product(s) best fits your needs. 
Review and compare lenders who can provide you with the lending you desire.
When you visit your Realm dashboard and enter your mortgage details, you can see how much equity you've built in your home and get accurate estimates for the amount of money you could access through a HELOC or cash-out refinance. 
Build your remodel budget
What are the steps to remodeling a house?
Every remodel will work a little differently, but there are some basic steps you'll follow. Your remodel may not include everything depending on your plan. Below is a general outline of the remodeling process from start to finish. 
Phase 1: Planning
Make a plan: Choose what you want to remodel and prioritize your list.
Set a budget: Be sure to add an extra 20% for surprise costs.
Hire a professional: Depending on the scope of your project, you may hire a single contractor or team of professionals to manage your remodel. Be sure to look at their portfolio of work and customer reviews before you decide.
Insure your home: Work with your insurance company to insure your home properly during the remodel and after. You may need to raise your coverage limits to cover your new upgrades. You may also be eligible for new discounts. 
Secure your permits and materials: A reliable and experienced contractor should provide guidance about necessary permits. Your contractor may secure the permits for you or you may need to get them from your local municipal office. 
Phase 2: Demo and structural work
Demolition and behind-the-wall work (if applicable): If you're tearing things down, they come down first! This step is where you're more likely to encounter an unexpected issue.
Windows and skylights (if applicable): Adding new window or skylight openings or replacing old windows can require structural changes, so these things happen early in the remodel process. Be sure to discuss window plans before the remodel begins— it can become unnecessarily costly to replace windows after some remodel work has already been completed.
Phase 3: Interior work
Paint, flooring, and trim (if applicable): By this phase of the remodel, the layout will be in place, and you'll be able to envision the finished product. You may be able to complete some of this work yourself.
Cabinetry (if applicable): You're inching closer to the finish line. 
Fixtures and finishings (if applicable): Sourcing the fixtures yourself allows you to have control over your home's aesthetic. You may even be able to save on markup and shopping fees.
Realm tip: If your budget is running thin, consider working with prefabricated cabinetry.
Phase 4: Wrap up
Clean up, quality check, final invoices, and payment: Your contractor will walk through your home with you. Don't be afraid to ask questions and voice your concerns if you have any.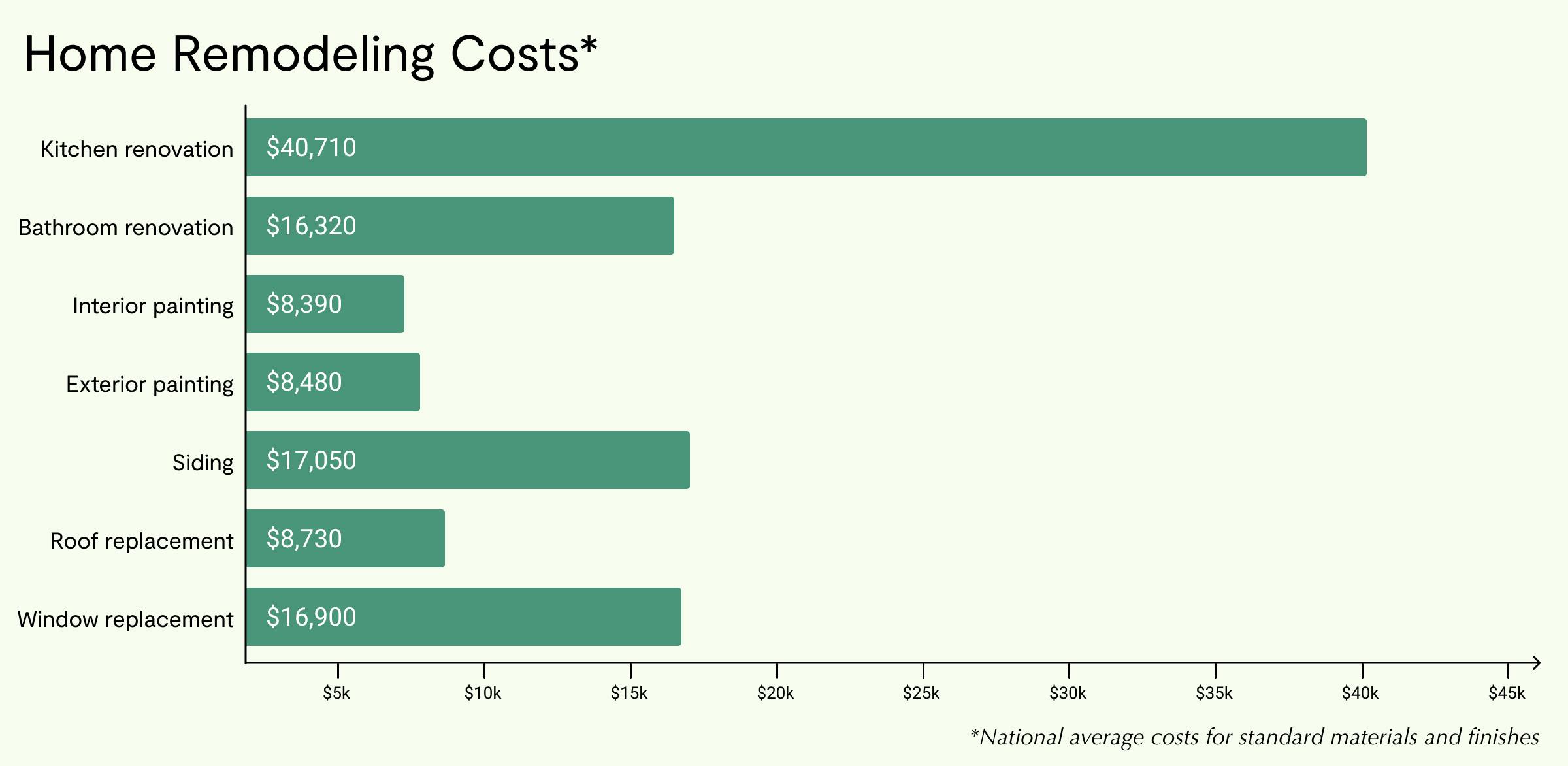 Who to hire
You'll have several options for who to hire for your home renovation. You may use one or several of these options depending on your needs and budget. Your options include:
Architect
Designer
Contractor
DIY
Architect
Cost: $100 to $250 per hour
Qualifications: State licensed
If your home renovation includes changes to the structure of your home, you'll need to hire an architect. Not only is it a good idea to bring one in, but your town may also require an architect's approval for you to get renovation permits. 
Your architect will create plans for your renovation project(s) and work within your budget. You can also hire your architect to manage your renovation. They will work with your contractor(s) to ensure the plans come to fruition. 
Architects are well versed in local regulations and structural safety. An architect will also carry architect liability insurance.
Designer
Cost: $50 to $200 per hour
Qualifications: Possible state license, depending on your state
An interior designer can plan your entire home design, including paint colors, materials, and fixtures. Or your designer may draw basic plans, leaving you to execute the style.  
Your designer should carry liability insurance, but it may not be required in some areas. Always ask about their business practices and insurance coverage. 
Contractor
Cost: labor and materials, plus a 20-50% markup (or even more). For example, if labor and materials cost $10,000, your contractor will charge you around $15,000 for the project.
Qualifications: State license.
Contractors oversee remodeling projects. After understanding your remodel, a contractor gives you a quote and draws up the contract. Your contractor will also hire subcontractors— carpenters, plumbers, electricians, etc. —  to complete the project to your specifications. They may also provide design services with an in-house designer or architect.
Realm tip: Don't let that markup deter you. It's not all profit. That covers the unseen overhead, like travel and insurance, in addition to paying for the contractor's services.
You can ask friends and family for contractor recommendations, or you can find vetted local contractors who have done projects in your area on your Realm dashboard. 
DIY
If you're handy, you may be able to tackle some projects on your own. While this can certainly save you money, bear in mind that novice mistakes can end up costing you more in the long run. For this reason, you shouldn't count on DIY as the cheapest option. 
The best DIY projects are appropriate to your skill level. For example, new paint, faucets, and fixtures are suitable for most skill levels. If you're more experienced or looking to expand your skill set, you might consider installing closet organizers, baseboards and trim, and prefabricated cabinetry.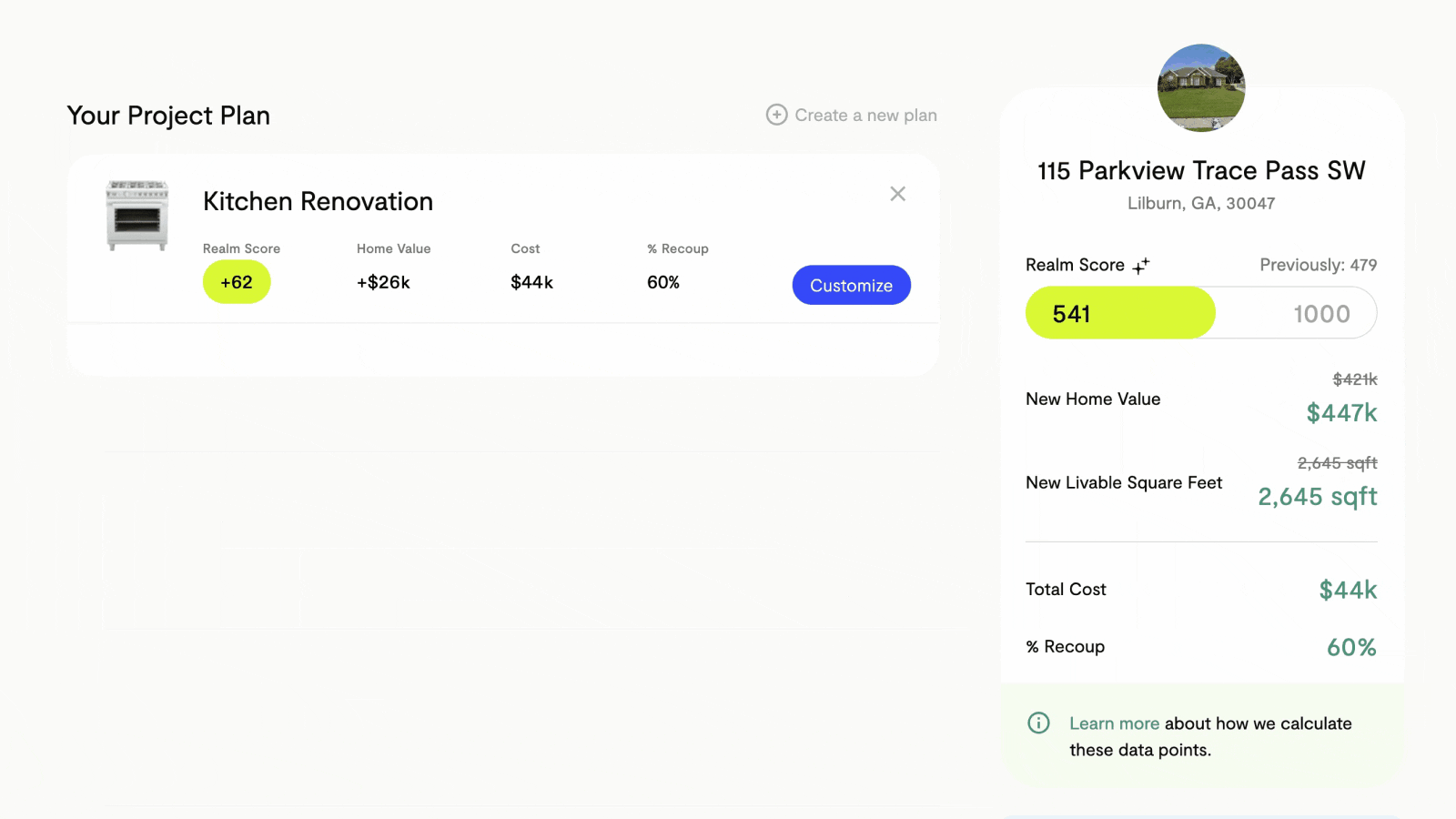 Using Realm to plan with ease
Ready to make the process even easier? Realm provides you with a free dashboard so you can get accurate pricing for all your renovation projects. Our dashboard accounts for all the variables specific to your property, including:
Materials
Labor
Square footage
Location
With a clear idea of costs, you can be sure you're staying within your budget and easily adjust your plans when costs get too high. To make things even easier, we use proprietary data to show you how much value your projects will add to your home based on your area's trends and home sales.  
Frequently asked questions 
What is the difference between remodeling and renovating a house? 
These terms may seem interchangeable, but there is technically a difference. A renovation refers to the restoration or repair of a home. On the other hand, a remodel involves changing the form of the home — creating an open floor plan, for example. 
How much should I spend to remodel my house?
Typically, you should spend no more than 15-16% of your home's value per room. Remember that your remodel is an investment. Setting a proper budget makes it more likely for you to recoup costs and even profit from the remodel. 
Do you need a permit to remodel a bathroom?
In most cases, yes. Plumbing and electrical renovations always need a permit. You also need permits for adding or changing windows or skylights. However, a permit is not required if you're only changing the flooring, replacing an existing sink, toilet, or countertop, painting, or swapping light fixtures. 
Published by Realm
Get more out of your biggest asset: your home. Realm shows you what your home could be worth & how to access more of its potential value. View more posts