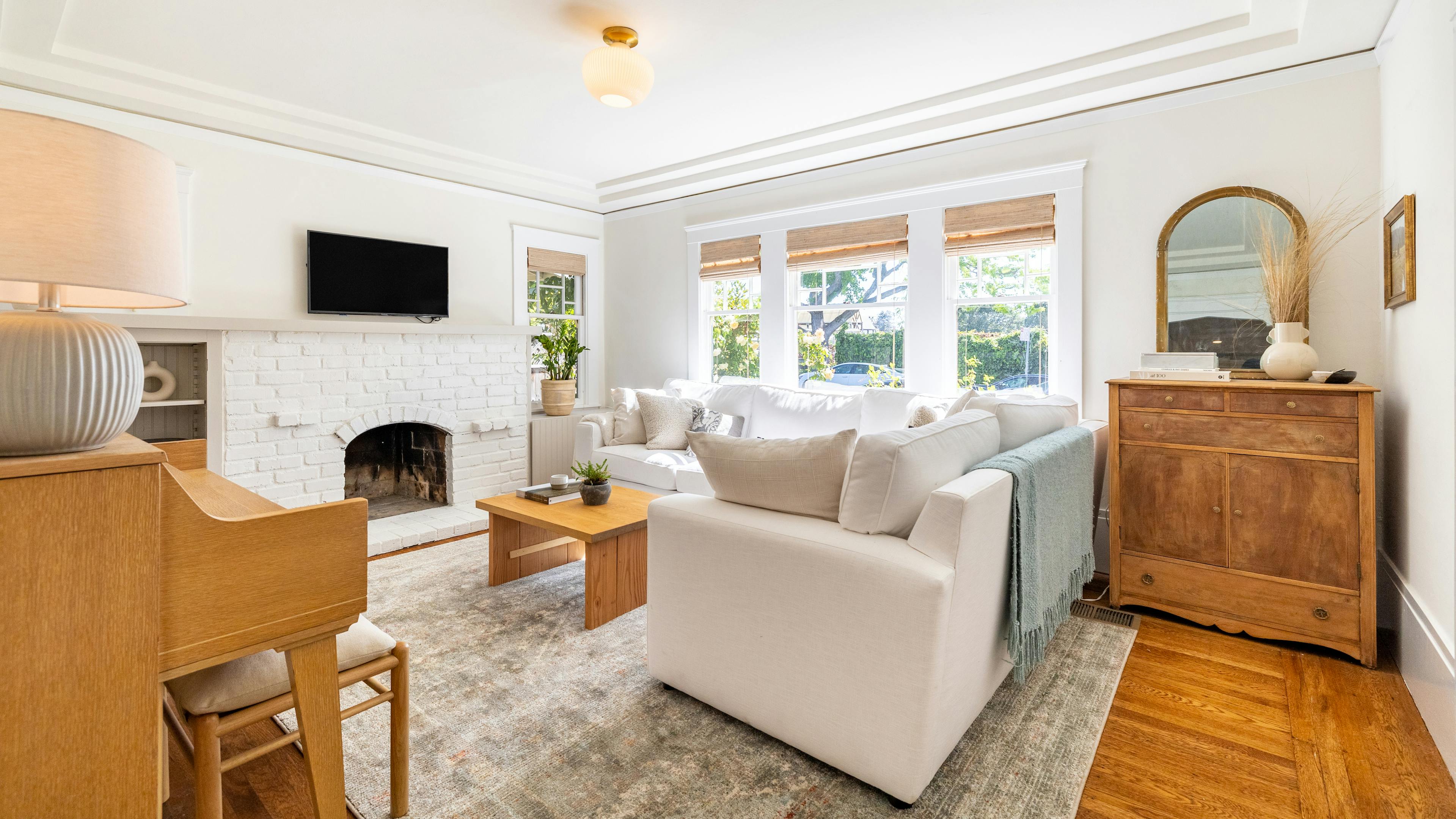 What you'll learn:
Why building a project budget is important
How materials costs impact your budget
How labor costs impact your budget
The cost impact of permits, fees, and other surprising factors
It's one thing to scroll through beautiful photos online, dreaming about possible home renovations. Maybe you're imagining how you want to remodel your kitchen or searching for design ideas for a new deck. But it's another thing completely to put those ideas into action. Deciding to tackle a home project — regardless of the project's size — can be overwhelming. There are so many options and so many decisions to make. 
For any home renovation project, one of the biggest considerations is cost and there are many factors that contribute to a project's overall budget, from design to materials to labor. Hidden pitfalls and unexpected issues that arise mid-renovation can also be costly.
Whether you're a long-time homeowner with experience renovating or a newbie taking the leap with your first project, getting accurate pricing information is critical to setting a realistic budget and achieving your home renovation goals.
Set a budget with specific pricing
If you search online for typical renovation costs, you're likely to find broad estimates that can vary by tens of thousands of dollars. For example, you might see that the average kitchen remodel costs anywhere from $11,000 to $42,000. That's a big range! It would be impossible to build a budget or decide how best to finance a project off of broad-strokes estimates.  
When you use Realm's free dashboard, you get precise pricing that's specific to your property. Our tools also make it easy to see which factors push costs up or down. This lets you explore your options and customize your project plan so you can decide where you want to splurge (granite countertops!) and where you want to save (standard cabinets). 
To provide a specific and accurate project estimate, Realm's tools use unbiased pricing data for key factors, including: 
Materials: Are you looking for top-of-the-line finishes or are you happy to save some money with standard or even budget-quality materials? Whatever you choose, these decisions will influence the overall cost of your project.
Labor: The number of contractors available in your area has a big impact on the cost of labor. The scope of your project also affects labor costs — how many people will be working and for how many hours? And if your renovation requires experts in several trades, that can also impact your estimate. 
Square feet: The size of your project will affect costs for materials and labor. A larger space may require more material (for example, flooring) and more time or people to complete the job.
Location: Prices for labor and materials may vary from city to city (and even neighborhood to neighborhood!). Beyond that, there may be location-dependent costs like building fees and permits. 
While an accurate project estimate is a crucial step toward building a budget, it's helpful to have a deeper understanding of the main factors that influence cost so that you can make informed choices as you plan. Understanding these factors can also help you back into a budget if you have a set amount to spend. And for anyone thinking about renovating, knowing about common mistakes and obstacles can save you time, headaches, and money. 
Read on to learn how materials, labor, and permits and fees affect your overall budget. And get insights about some of the most common renovation pitfalls — and how to avoid them.   
Use Realm's free dashboard to get accurate project pricing
Why materials matter
Materials costs are generally calculated nationally, meaning prices don't fluctuate very much based on location. However, the cost of materials can vary for a number of other reasons. 
Obviously, different materials will carry different price tags. For example, vinyl flooring generally costs less than marble flooring. But even within the vinyl flooring category, you'll still see big price variations depending on style and quality. While the most basic vinyl averages about $1 per square foot, luxury vinyl flooring costs $12 per square foot. That means that if you're laying vinyl in a 250-square-foot room, the materials alone could cost anywhere from $250 to $3000. 
There are also broad economic factors that can impact the cost of materials, like trade embargoes, tariffs, and natural disasters that may impede the movement of goods or cut into supply, such as widespread wildfires that limit wood production. 
If a material shortage causes a price bump, you might think it makes sense to wait for the cost to fall. But timing out a price surge can be tricky. For example, while the cost of wood may be high, concrete for another part of your project might be cheaper than usual. "If you're waiting for that one material price to drop, you don't know what's going to happen to other material prices," explains Tara Bradley, one of Realm's pricing experts. Tara says waiting out temporary price increases can also have a ripple effect on other project costs, particularly labor. "If everyone's waiting for lumber prices to drop, once they drop, everyone's going to be fighting for the best contractors. So they'll raise their fees — which means that the difference in waiting for that lumber price might be nominal because now contractors are in high demand." 
In your Realm property dashboard, the costs you see are based on regularly updated data that reflect current materials prices. With up-to-date cost data, you're able to customize your project plan and know that you're getting an accurate budget estimate. 
Average cost per square foot of common construction materials
| | | | | |
| --- | --- | --- | --- | --- |
| Type of Material | Material | Labor | Equipment | Total |
| Tile countertop | $12.38 | $33.22 | $0.63 | $46.23 |
| Cultured marble countertop | $12.40 | $101.75 | $0.00 | $114.15 |
| Laminate countertop | $30.02 | $31.63 | $0.98 | $62.63 |
| Epoxy (two coat) flooring | $0.61 | $7.16 | $0.00 | $7.77 |
| Vinyl flooring | $2.34 | $3.42 | $0.00 | $5.76 |
| Stone flooring | $12.99 | $17.98 | $0.54 | $31.51 |
| Cabinet doors | $25.55 | $12.60 | $3.30 | $41.45 |
| Custom cabinets (average) | $187.40 | $89.00 | $0.00 | $276.40 |
| Custom cabinets (premium) | $570.40 | $98.75 | $0.00 | $669.15 |
| Custom cabinets (deluxe) | $841.50 | $126.85 | $0.00 | $968.35 |
| Redwood deck (ground level) | $37.33 | $30.41 | $1.79 | $69.53 |
| Redwood deck (second story) | $50.43 | $39.96 | $2.45 | $92.83 |
The cost of labor
Unlike materials, labor costs are highly localized and heavily dependent on the number of skilled contractors in your area. If there are many tradespeople where you live, the cost of labor may be less expensive. But in places where there are more projects than people to do them, labor prices will be more expensive. 
But even if your area typically has enough laborers, there may be times when demand outstrips supply. For instance, during the pandemic when most people were stuck at home, many people used that time to tackle renovation projects. In a lot of places, the demand for skilled tradespeople ballooned almost overnight and the cost of hiring labor increased. 
Labor costs are also much more opaque than materials costs. "With materials, there are all these sources of truth. News outlets report on the cost of steel or you can see materials prices at national home supply stores," explains Tara. "With labor, you have to trust your contractor or your family or friends to know what the benchmark of labor costs should be." 
Without a clear understanding of how much labor should cost in your area, you might think that the contractor offering the cheapest bid would be the best option. But a bid that appears affordable may carry hidden costs and risks. If you get a particularly low bid, it's important to look at the details and consider why. "Usually, it's because the contractor is leaving something out," says Tara. "Are they not being fair to their laborers? Are they cutting corners with materials? Is it that they're not getting the job permitted correctly? Are they not paying for the proper insurance?" Any of these shortcuts could create the illusion of a cheaper project, but could end up costing you more in the end. 
Realm tip: One way to make sure you're getting accurate bids is to have your design worked out before talking to contractors. When you have a design in-hand, contractors have a more concrete plan to work from and don't have to guess about the time and tradespeople necessary to get the job done. Getting bids on a detailed design also ensures that you're getting comparable project estimates. 
When you plan a project on your Realm dashboard, labor is factored into the cost. Our data-driven pricing tools account for the hours it will take to do a project, the tradespeople working those hours, and standard labor rates in your area.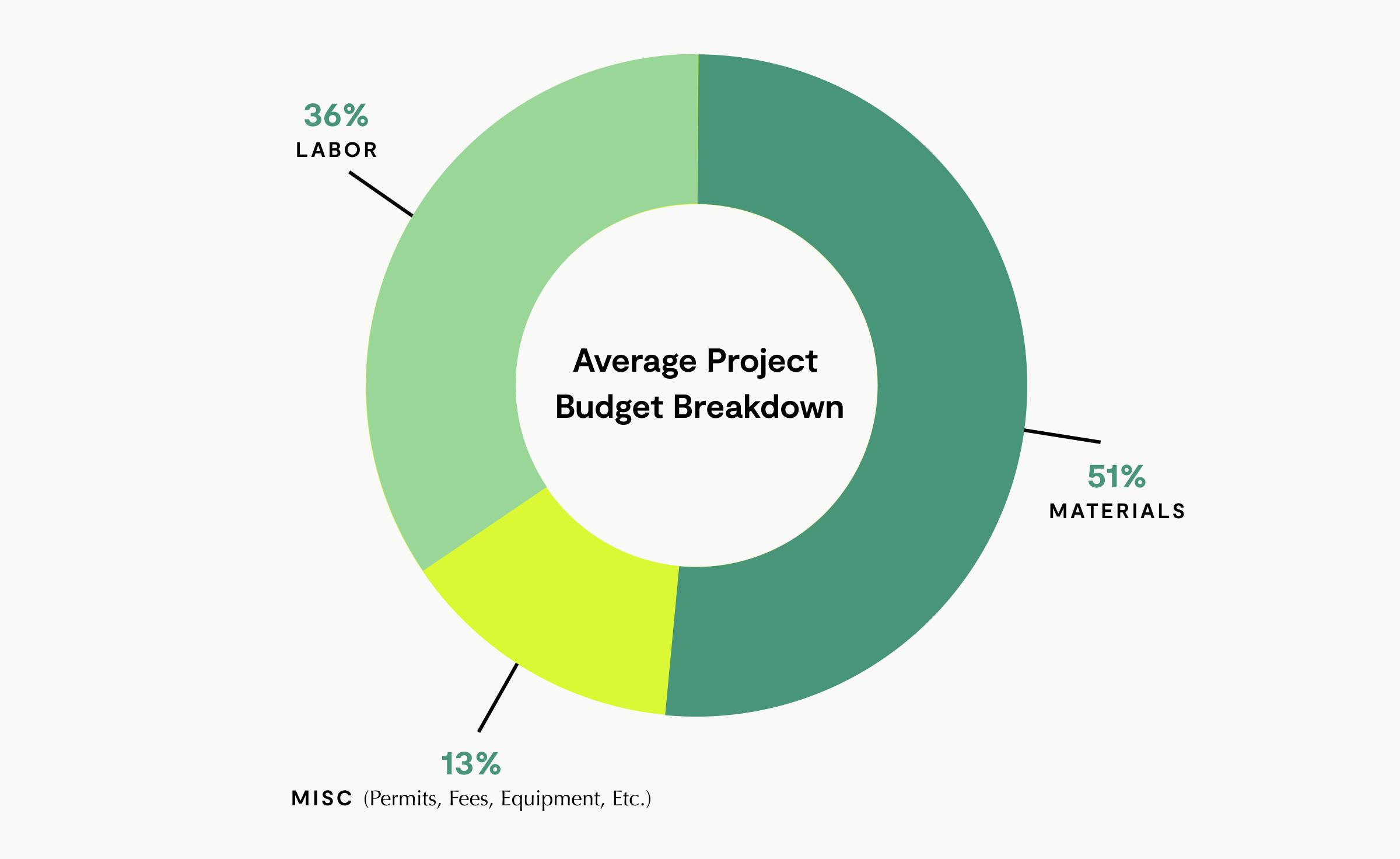 Build your renovation budget with Realm
Permits, fees, and other unexpected costs 
Materials and labor are two of the big cost buckets for any project. But there's also a third bucket that includes a wide array of miscellaneous expenses — particularly permits and fees. Like labor, permit and fees costs are location-dependent. It's crucial to work with a reputable and experienced contractor who knows what's legally required where you live. 
But what about work that may have been done on your home before you moved in? Were all those projects done properly according to local building codes and with the correct permits? If not, you may be looking at added costs to correct prior work before you even begin your renovation. 
There are other unexpected costs that can crop up as you get further into your renovation planning. Here are a few more obstacles you could encounter that might impact your budget: 
Property slope: If your home sits on a hill, there may be local rules about what and how you can build. And certain projects may carry added costs. For example, you might be allowed to build an addition, but it could be more complicated and expensive because you may need to do site preparation work or account for additional structural support. 
Fire codes: Let's say you want to convert your basement into a livable space, but the ceilings are only six feet tall and there aren't any windows in the space. Many local fire codes require ceiling heights of at least seven feet and specific types of windows that allow someone to escape if there's a fire upstairs. To convert the basement, you'd first need to raise the ceiling height and put in windows — both costly projects. 
Utility easements: If a local utility company has equipment on your property, such as a power pole, a utility easement gives them permission to use and access that piece of land so they can maintain their equipment. If you're thinking about expanding your home's footprint, putting in a pool, or building an accessory dwelling unit, it's important to know if your property contains any utility easements where you're not allowed to build.  
Historic homes: Buying a historic home comes with a lot of charm and oftentimes, a lot of rules. "In many of these historic neighborhoods, you get extra value for living there because the homes look a certain way," explains Tara. Depending on the building regulations for your historic district, you may be required to maintain certain architectural features or to use specific materials or even paint colors. 
Homeowners associations (HOAs): Like historic districts, HOAs can create their own building regulations. "They can be surprisingly strict," says Tara. "And HOA rules may actually supersede the town or the city." Understanding the details of your HOA rules can prevent you from having to redesign or backtrack during your build. 
Load-bearing walls: If your renovation plans include knocking out a wall (or two) for a beautiful open-concept design, you may encounter some hidden costs. If the walls you want to demo are load-bearing — in other words, they provide essential structural support for the home — you can't just remove them. You have to create new support somewhere else, adding a significant cost to your project. 
Building an accurate renovation budget 
With so many pricing factors to consider, it can feel intimidating to try to build your own renovation budget. Even if you know how much you want to spend, it can be hard to know what to spend it on. You could put in weeks of time researching prices and talking to friends and family and still end up without a clear plan.
Realm's easy-to-use pricing tools have changed all that. We give you precise cost estimates for projects of all sizes. And because Realm uses unbiased local pricing data, you're able to create an accurate budget tailored to your specific home. 
If you build a renovation plan using the Realm dashboard, you'll also see how each project impacts your home's value. This allows you to prioritize based on your goals. For example, Realm makes it easy to find affordable yet high-impact upgrades to prepare to sell your home or to see which projects offer the biggest opportunity to recoup your investment. Knowing how much value a project adds to your home will help you decide where to scale back and where to splurge.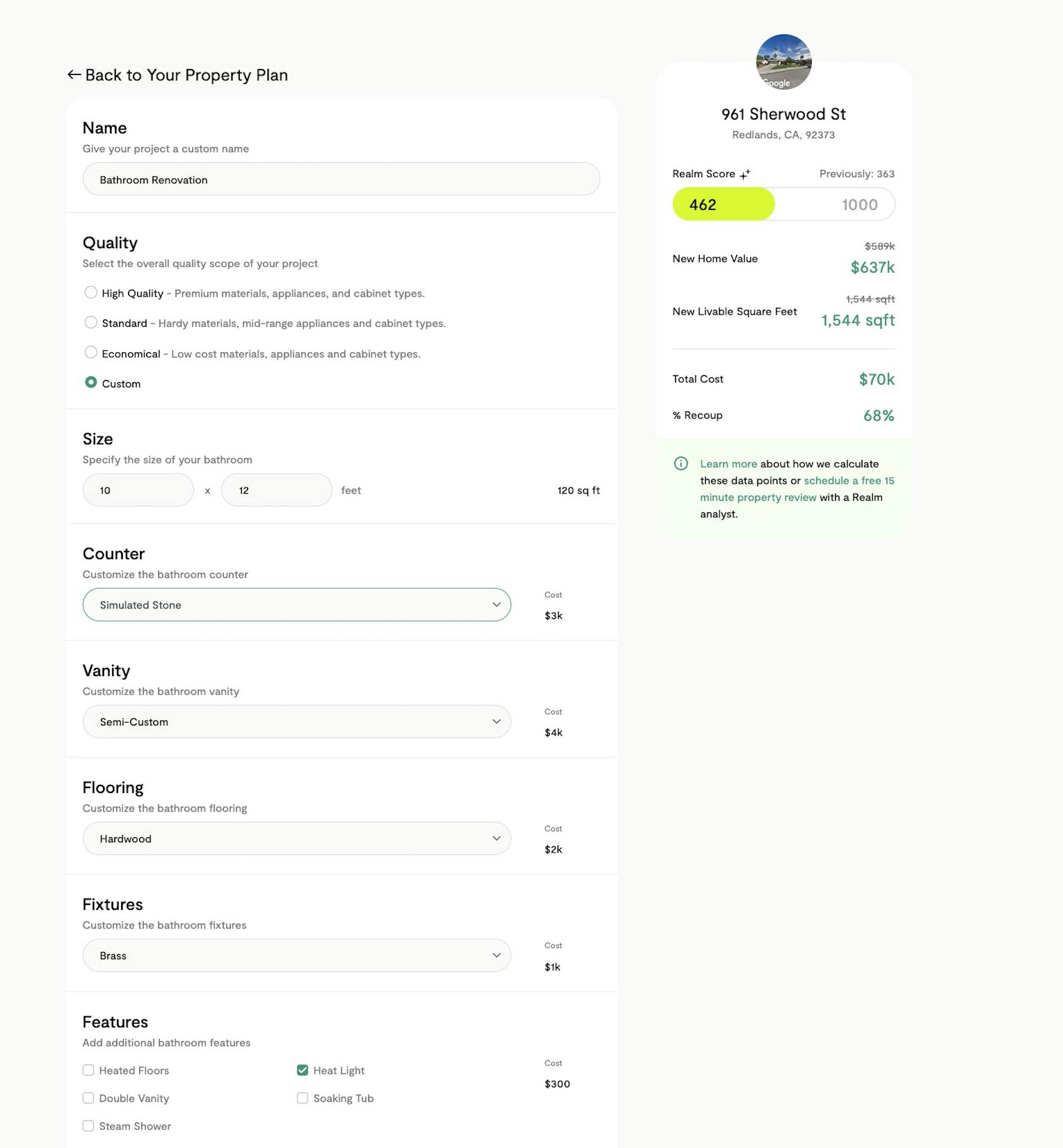 When you log into your free dashboard, you'll be able to explore and customize projects. You can also experiment with different materials to see how they affect your bottom line. Once you've built your project plan in Realm, you'll have an accurate benchmark for what your project should cost. This will help you assess financing options and evaluate contractor bids. 
What if you have a long list of projects and aren't sure which would be worth the investment? With Realm, you can easily prioritize because you can see how much value each project will add to your home. And as you customize your renovations, you'll see how those changes impact each project's return on investment. 
Create a free profile today to see how Realm can help you stop dreaming about projects and start renovating.
Frequently asked questions
How much does it cost to renovate an entire house? 
Building a realistic budget for a full-home renovation depends on many things, including the size and age of your home, your location, and the quality of the materials you want to use. In your Realm dashboard, you can build an accurate budget for a multi-project renovation. And because our tools allow you to customize each project, you can try out different materials and finishes to create a budget that fits your goals. 
Can you renovate a house for $50,000 (or $60,000 or $70,000)?
If you know how much you want to spend on a renovation, you can use Realm's pricing tools to back into that budget. You can also easily compare the cost of different projects so you can weigh which are most important to tackle first. 
How much does it cost to renovate a home in my city? 
Project costs can vary widely by location. A kitchen renovation in Seattle won't have the same budget as a kitchen renovation in Milwaukee. You can use Realm's free dashboard to get an accurate renovation estimate based on where you live. 
Is it cheaper to buy or renovate a house? 
Without accurate pricing tools, it would be hard to know whether it makes sense to stay put and renovate your current home or buy a new house that doesn't need as much work. But when you create a project plan with Realm, you can easily see how much it would cost to fix up your current home. Then, you can use that budget estimate to evaluate whether you want to invest in renovations or search for a new home. 
How much does it cost to renovate a home this year? 
Materials, labor, and other renovation costs can fluctuate month to month and year to year. To get a real sense of how much your project will cost, it's important to build a budget with up-to-date pricing information. Realm's pricing tools use unbiased data that's updated regularly, so you know you're getting an accurate cost estimate. 
Published by Realm
Get more out of your biggest asset: your home. Realm shows you what your home could be worth & how to access more of its potential value. View more posts