How much does a bathroom renovation cost?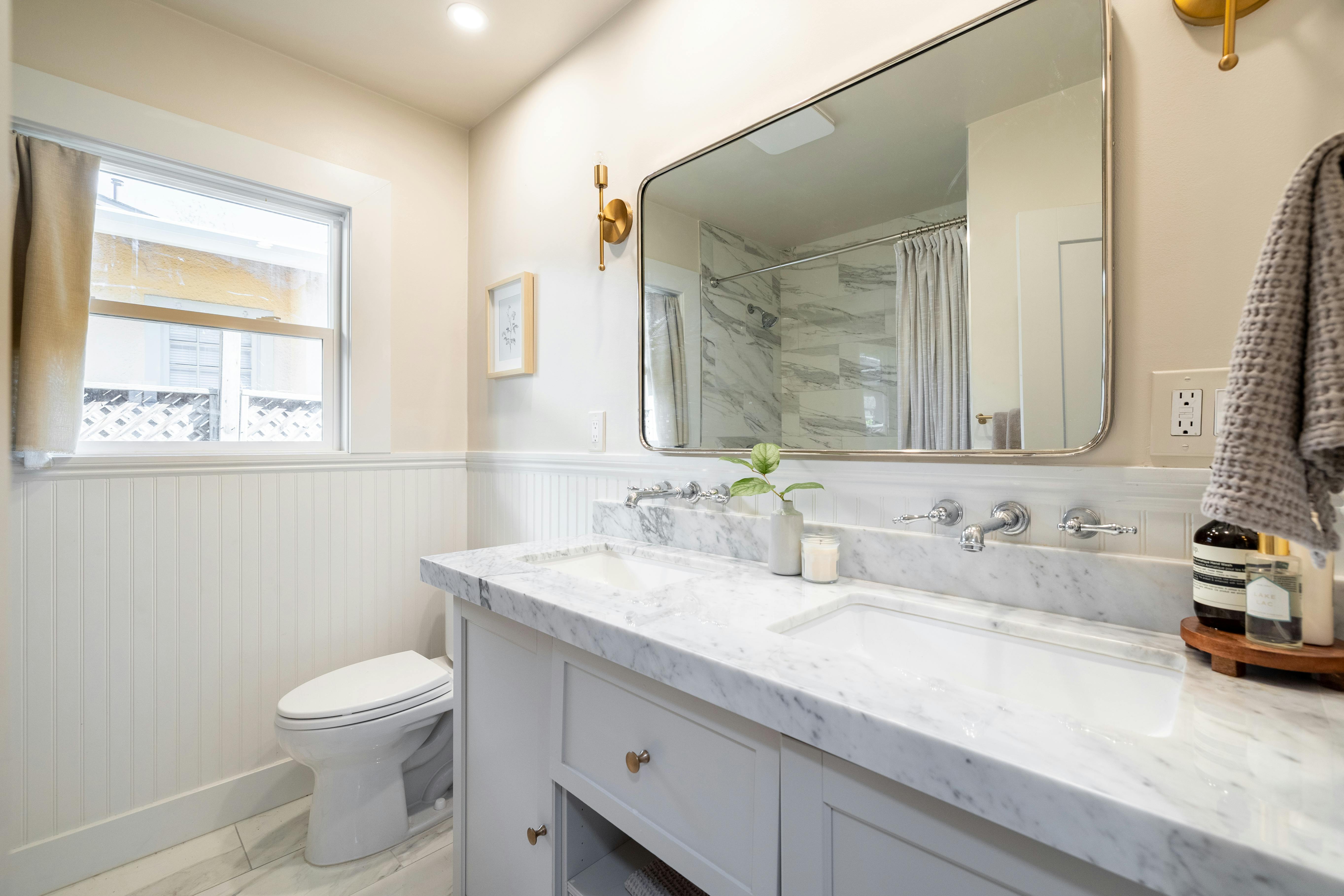 What you'll learn: 
How to plan for your bathroom remodel
Typical costs associated with a bathroom renovation
Factors that impact your budget
How to find and vet contractors
Bathroom renovations can be an exciting prospect for any homeowner. Whether your goal is to create a tranquil space to relax, modernize an outdated powder room, or increase the overall value of your property, bathroom renovations are an excellent way to make your house feel a little more like home.
But that doesn't mean they're always easy. Or cheap. The costs of bathroom renovations can be unpredictable — especially depending on the size of the room. Additionally, the price of materials and fixtures for bathroom remodels can vary greatly, and failing to properly budget for plumbing and contractor expenses can lead to unexpected cost overruns. 
Whether you're about to start your first bathroom renovation or you have undertaken remodels in the past, establishing a realistic budget estimate is the foundation of a successful project. Here's how to make that happen.   
Have a clear vision
To set an accurate estimate for your bathroom renovation, it's essential to first determine the scale and scope of the project. There will be significant differences in costs depending on the size of the bathroom, whether the space has a shower or bath, and if the project is a full overhaul or just updating some of the finishes or fixtures. 
When establishing your vision, you should also consider your reason for remodeling. Ask yourself: what is inspiring you or motivating your desire to renovate? Additionally, when coming up with a budget, it is also important to establish which changes are essential improvements versus those you would like to make but could live without (if necessary). For instance, for some people, a walk-in shower might be a must-have in a primary bathroom, while for others, expanding the bathroom's overall footprint could be the most important goal. 
Obviously, larger bathrooms and more extensive renovations will lead to higher costs. Knowing your intentions for the space and how it will be used can also help you determine whether it will be worth it to splurge on items like a high-end bathtub or custom tile work. For example, if you are renovating a primary bathroom, you may want to spend more than if you are redoing a guest bathroom that will only be used a few times a year. 
If you're working with a smaller budget, there are still ways to transform your space. Instead of a complete gut renovation, you could do a partial remodel, in which you replace a vanity or a toilet, rather than redoing the entire bathroom. Even small, affordable changes can have a big impact. 
When settling on the vision for the project, it is also worth factoring in how the renovation will increase the value of your home. Using Realm's free dashboard can help you get pricing information specific to your property and you can see how a  bathroom renovation will affect your home's total value. 
Realm tip: If you're thinking about selling soon, you may want to also consider how the style of your renovation might impact your sale.  Highly customized remodels may fit your tastes but could make it harder to appeal to potential homebuyers.
Plan your bathroom renovation
Major cost contributors
The total cost of bathroom renovations varies greatly. Small to mid-sized bathrooms generally cost between $6,000 and $15,000, while larger, primary bathroom renovations can range from $15,000 to $30,000. For skilled DIYers, total budgets can go as low as $2,500. On average, the National Kitchen and Bath Association (NKBA) suggests that homeowners budget between 5% to 10% of the total value of their home for a bathroom renovation.
The most important factor in the total cost is the size of the space: as you might guess, a smaller space will generally lead to a lower overall budget. When creating your budget, you should estimate between $110 to $275 per square foot depending on whether you are undertaking a low-, mid-, or high-end remodel. The NKBA found that in 2019, the average cost for primary bathroom renovations was $32,000, compared to $18,000 for guest baths, and $12,000 for powder rooms.
In addition to room size, what are the main contributors to these costs? Here's what you should consider:
Labor: Finding a quality, reliable contractor and subcontractors who will help you avoid expensive change orders or unexpected delays — a crucial component of a successful renovation. Expect to pay between $50 to $75 per hour for labor and labor generally accounts for at least 50% of your total budget.
Geography: Renovations in areas with higher home and property prices can cost anywhere from 20% - 100% more than those in less expensive regions.
Materials: Generally, the most expensive parts of a renovation are the vanity and the shower, but bathroom materials run from the modest to the luxurious, so knowing what works for your budget is key.
Plumbing: The need to move a waste or water line can significantly drive up costs.
Expansion: If you want to expand the size of your bathroom, this adds to your bottom line.
Demolition: Depending on the needs for your individual project and your existing bathroom, demolition costs can range from $1,000 to $2,500.
It's important to recognize that while some elements of a renovation will be costly no matter what, your approach and decisions during the project planning provide you with a great deal of control over your total costs. Selecting and pricing out the fixtures and materials on your own can ensure you stay within your budget. Additionally, if you are able to do some of the easier parts of a renovation on your own (for instance, like painting), this can help to drive down the overall cost of the remodel.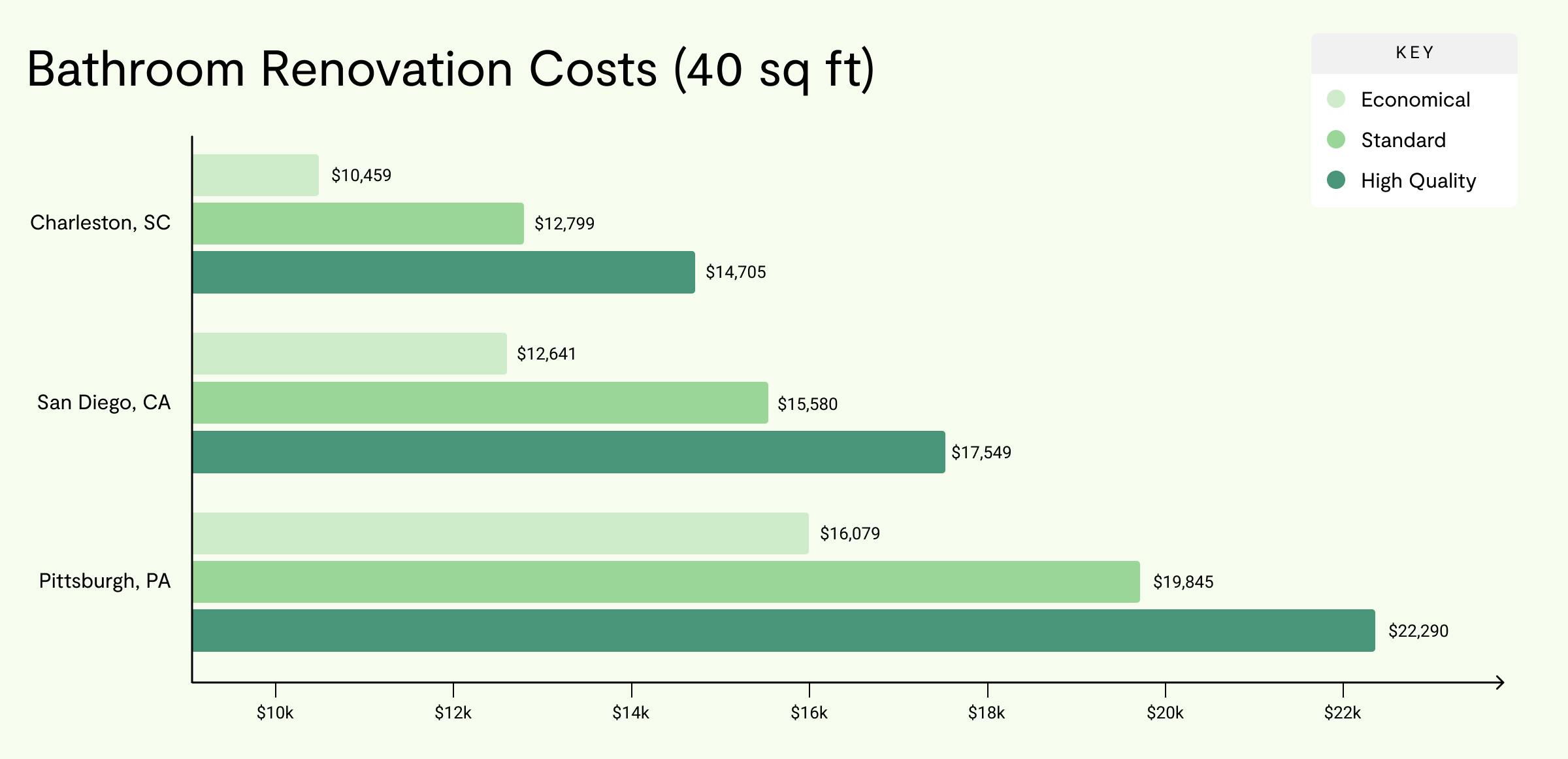 Adjusting your budget
Because the price of materials ranges significantly depending on quality and style, there's a lot of opportunity to adjust materials costs to fit your overall budget. If you're interested in saving money, it's important to prioritize the items that are non-negotiables, as opposed to things you could either live without or upgrade at a later date.
High-end or custom-built fixtures and accessories often cost significantly more than economy or off-the-shelf products. To lower the overall cost of the project, you should decide what items are so essential to your vision that they're worth a splurge, and which items can be simpler or more basic in quality or style (and therefore you can spend less on them)..
Knowledge is the most fundamental element of a successful renovation. Given that, here's a breakdown of what you should expect to spend on fixtures and materials for a bathroom remodel:
| | | |
| --- | --- | --- |
| Item | Low- to medium-end | High-end or customized |
| Toilets | $100-$500 | $1,000-$5,000 |
| Bathtubs | $200-$900 | $1,000-$5,000 |
| Sinks | $100-$400 | $700-$4,000 |
| Vanities | $200-$800 | $1,000-$5,000 |
| Countertops | $200-$500 | $700-$1,000 |
| Light fixtures | $50-$100 | $200-$400 |
| Flooring | $300-$700 | $1,000-$3,000 |
| Doors and windows | $200-$400 | $700-$1,500 |
Unless you are working with an unlimited budget, it's important to price out the materials and items on your own, prior to hiring a contractor. Having a clear picture of these costs will help you prioritize where you want to spend on high-quality items and where you feel comfortable making some compromises. 
When trying to save money, think about the items you will use or notice the most — for instance, if creating an opulent shower experience is your  goal, then find a high-quality shower head within your budget and perhaps spend less on a mirror or lighting fixtures that will not be as vital to you. If unique or customized tiling is not at the top of your list, subway tile, though ubiquitous, provides a clean, modern look that is always in style at an affordable price. Or, if you never plan to take a bath, you can save money by opting for a walk-in shower rather than a tub or tub and shower combination. Taking the time to truly know yourself, your needs, and what you hope to accomplish with the renovation will greatly assist you in building an accurate, cost-effective budget.
Finally, when coming up with your budget, you should set aside at least 5-10% of the total cost for unforeseen cost overruns or problems that may arise during the construction process. Building in this flexibility will ensure that the project can be completed in a reasonable time frame without delays caused by budget constraints. 
Realm's free dashboard offers a helpful tool to show you how different choices and customizations will impact your overall budget. For instance, you can see what will happen if you opt for a high-end vanity and try to save on a toilet, or if you opt for a whirlpool tub.
Build your renovation budget
Getting an accurate estimate
Doing the legwork in advance to know what you want and what you want to prioritize in your project plan will make you much more efficient when the time comes to reach out to contractors and seek estimates. Building a detailed budget and customized plan in your free Realm dashboard will serve as a guide during your contractor conversations. It's absolutely OK to disqualify from consideration any contractor who immediately offers objections to your plan or who cannot meet your desired specifications.
The type of contractor you will need is highly dependent on the type of remodel you're undertaking and your overall plan. For complete renovations, especially for primary bathrooms, it's typically advisable to hire a general contractor to steer the project. However, if you're only doing a partial renovation or just replacing certain features (like a shower or toilet), you can hire a more specialized contractor or plumber to complete the job. 
Even with a carefully considered plan and an accurate budget estimate, finding the right contractor can be challenging. A good place to start is your personal network. Ask around with trusted friends to see if they've had positive experiences working with a contractor or plumber — or if they've worked with contractors they think you should avoid. Checking Better Business Bureau listings can also help you find reliable contractors. You can also see recommended contractors who have worked with your neighbors on your free Realm dashboard. 
You should seek out a licensed contractor who also can verify the use of licensed subcontractors whenever possible. Be sure to ask potential contractors whether they have any certifications or specialized training, which can help reveal their particular skills. You can also ask if they are members of any national contractor associations, such as The National Association of Homebuilders, The National Kitchen and Bath Association, or The National Association of the Remodeling Industry.  
Once you compile a list of potential contractors and begin to reach out to them, attempt to meet in person whenever possible. It's helpful to walk through the space you plan to renovate with each contractor. This will help you get a sense of whether or not you're on the same page about the scope of the project. You will be placing a lot of trust in this person, so you want to make sure that you will be able to work together well. 
Additionally, it is essential to get all quotes and estimates in writing. This will help eliminate possible problems down the line and prevent any confusion about the agreed upon budget. 
When you find the right contractor and feel ready to move forward, you should ask the contractor for a detailed plan that includes: 
An overall timeline
The total cost
Site plans
Schedule of main project tasks
A payment schedule
Details on possible change orders (and associated costs) for them
A dispute resolution clause
A warranty clause
A list for closing out the project. 
The more detailed a contractor bid the better. Qualified contractors should also be able to detail any permits needed to complete the project.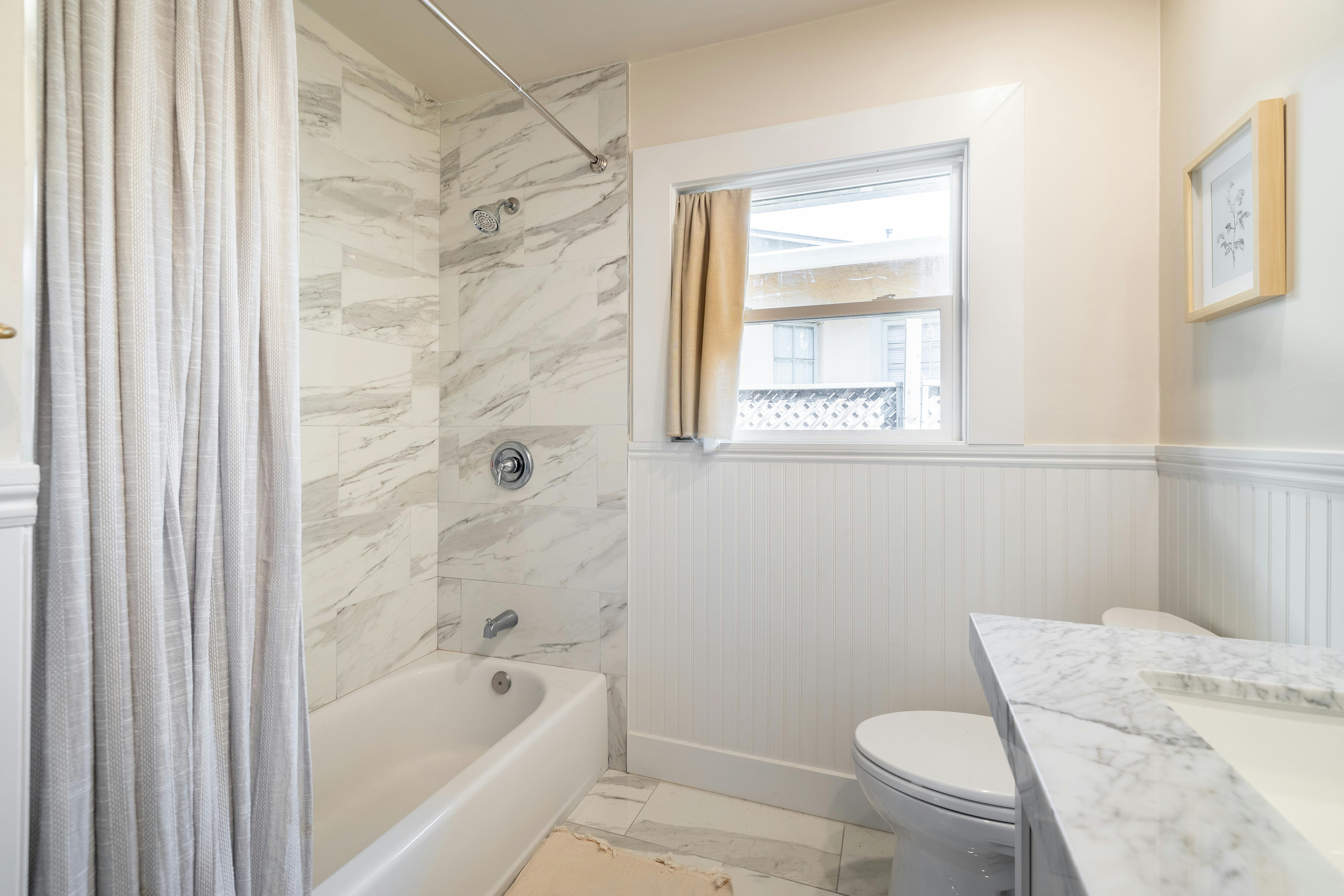 Using Realm to build your bathroom remodel budget
Throughout the entire renovation project, from the moment you first imagine the potential for your new bathroom to completion, Realm can help you  ensure your remodel is a success. You can use Realm's dashboard to get an accurate, unbiased budget for your bathroom renovation tailored to your specific home. Additionally, Realm's tools offer the ability to see how different choices (from fixtures to materials) can affect your overall budget. When using your Realm budget as a guide, you can rest assured you are entering into conversations with contractors fully informed. 
Frequently asked questions
How much does it cost to renovate a small bathroom?
For a full renovation of a small bathroom, you should expect to spend between a minimum of $5,000 to $7,000.
How much should you spend on a bathroom renovation?
The cost of your bathroom renovation can vary greatly depending on the size of the space and whether you are seeking customized or high-end fixtures and materials. It's good to estimate spending between $110 and $275 per square foot for a bathroom renovation, meaning powder room and guest bath (with shower or bath) renovations typically cost between $6,000 to $15,000, while primary bathroom remodels range between $15,000 to $30,000.
What is the most expensive part of a bathroom renovation?
Labor and the costs of construction typically account for around 50% of the total cost of a bathroom renovation. However, showers, tiles, tubs, fixtures, vanities, and other materials come in a range of prices, from mass-market to high-end, meaning that what you choose to prioritize in your project will greatly impact the overall cost. Vanities and tubs or showers typically are the most expensive non-labor part of renovations.
How much does it cost to remodel a 5x7 bathroom?
You should expect to spend between $110 to $275 per square foot, or between $4,000 to $9,600. 
How much does it cost to remodel a 100 square foot bathroom?
Regardless of the size of your bathroom , you should expect to spend between $110 to $275 per square foot, or between $11,000 to $27,500.
Published by Realm
Get more out of your biggest asset: your home. Realm shows you what your home could be worth & how to access more of its potential value. View more posts