How to assess contractor bids (and what to look out for)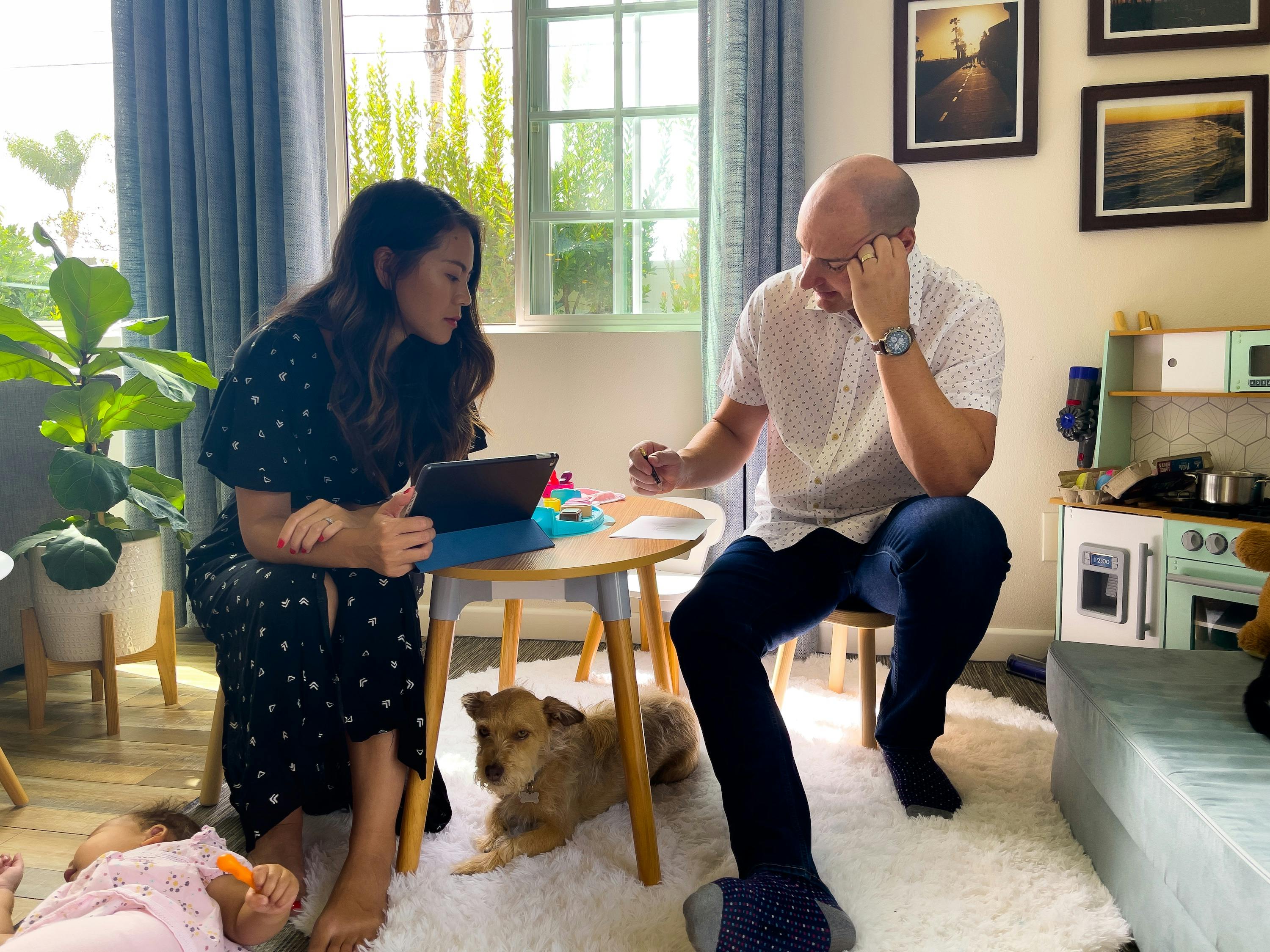 What you'll learn: 
How to source contractor bids
How to compare contractor bids
What should be included in a bid (and what's not)
Red flags to look out for in a bid
How to review contractor agreements 
How using Realm helps you prepare to get bids
Have you managed to find a few — ideally three — qualified contractors to bid on your longed-for home remodel or renovation project? Congratulations! That's a major accomplishment, involving vetting each contractor's licensing credentials, references, and insurance policies. Give yourself a pat on the back for persevering. 
Or maybe you haven't even begun your contractor search, but you want to know what steps lie ahead in the unfamiliar process. (If that's the case, start with Realm's go-to guide for finding the right contractor. We walk you through the process and provide handy checklists for vetting each professional effectively.)
Wherever you are on your home-improvement journey, this contractor bidding guide will help you learn how to solicit and compare bids so you can confidently decide which contractor is the best match for you, your home, and your project.
Getting contractor bids
By the time you're ready to get contractor bids, you'll have invested a lot of effort and time in vetting potential contractors. Why take chances now? To get the most accurate bids, you'll want to put together a project description that clearly outlines your goals, timeline, and budget. 
You might be wondering, should I put all my cards on the table with my budget? Maybe I should wait to see what the contractors' bids look like before revealing how much I want to spend? Although that may seem like a smart strategy, the truth is, you should have a clear sense of what you can afford and you should convey that budget from the get-go. Providing budget guidelines up front will ensure you find the right contractor for the job. Realm's free dashboard is a great way to get an accurate, unbiased project cost estimate specifically tailored to your property and location. 
Doing a careful walk-through of the property is equally essential to getting an accurate quote — otherwise the contractor is just giving you a rough guess-timate. You can also tell a lot about a contractor during this process by listening to the kinds of questions they ask (or don't ask) and assessing whether they seem engaged or distracted. Ask yourself whether you feel comfortable communicating with this person. Listen to your gut.
Realm tip: When working with a general contractor, the best way to get an accurate bid is to provide a detailed design plan to all potential GCs. This ensures that all potential contractors are building budgets based on the same plans. If you've decided to go with a design-bid contractor, you still may want to have a rough design before sending out bids so you can easily compare quotes. Then again, you may prefer to approach them with a clean slate and use the initial sketches by each design-build firm in evaluating your options. 
Get an accurate project estimate
Comparing contractor bids
Contractor bids are by no means standardized, so it can be hard to know where to begin when you are trying to compare them. This becomes especially evident if the bids vary significantly in total project costs. The solution is to strategize:
Separate the costs of each bid into the two main divisions: labor and materials. 
Check to make sure that labor and materials each encompass the project's main elements — such as foundation, framing, plumbing, and flooring — to ensure nothing is being overlooked.
Try to identify line-item differences among estimates. For example, one bid for a kitchen renovation might include the cost of appliance installation while the others don't. 
Track any inconsistencies across bids in a list so that you can go back to each contractor for adjustments and/or clarification. 
Finally, note the contractor's own management fees, which are usually between 20-50% of total estimated costs (though sometimes more). This can make a big difference in higher-end projects.
Evaluating and comparing estimates is a process and you may have to do several rounds of this until you have multiple bids with similar components and line items, so you're comparing "apples to apples."
What's not included in a contractor bid
Even the best-laid plans are subject to unforeseeable developments. Houses are intricate buildings and sometimes surprises await once you open up the walls, particularly in older homes. Faulty wiring, outdated plumbing, and even mold are just some of the more common discoveries. Or maybe it turns out a gas line has to be redirected to allow for your new open kitchen layout. These issues can lead to "change orders"—basically changes that incur costs on top of what was in the contract. 
Other reasons for change orders stem from the homeowner. After all, even seemingly simple remodels require you to make and lock into lots of decisions. Lengthy projects really allow time for rethinking those choices. And the pandemic has caused a significant uptick in change orders due to supply chain issues, shortages, and lag time for deliveries.  
Having a change order clause in the contract is your best defense against these additional costs, as it will trigger the need for the contractor to alert you of any change orders that you might not be aware of. It will also protect you against any unreasonable change orders, such as for mistakes by the contractor or problems that a professional should have been aware of to begin with.
How to review a contractor bid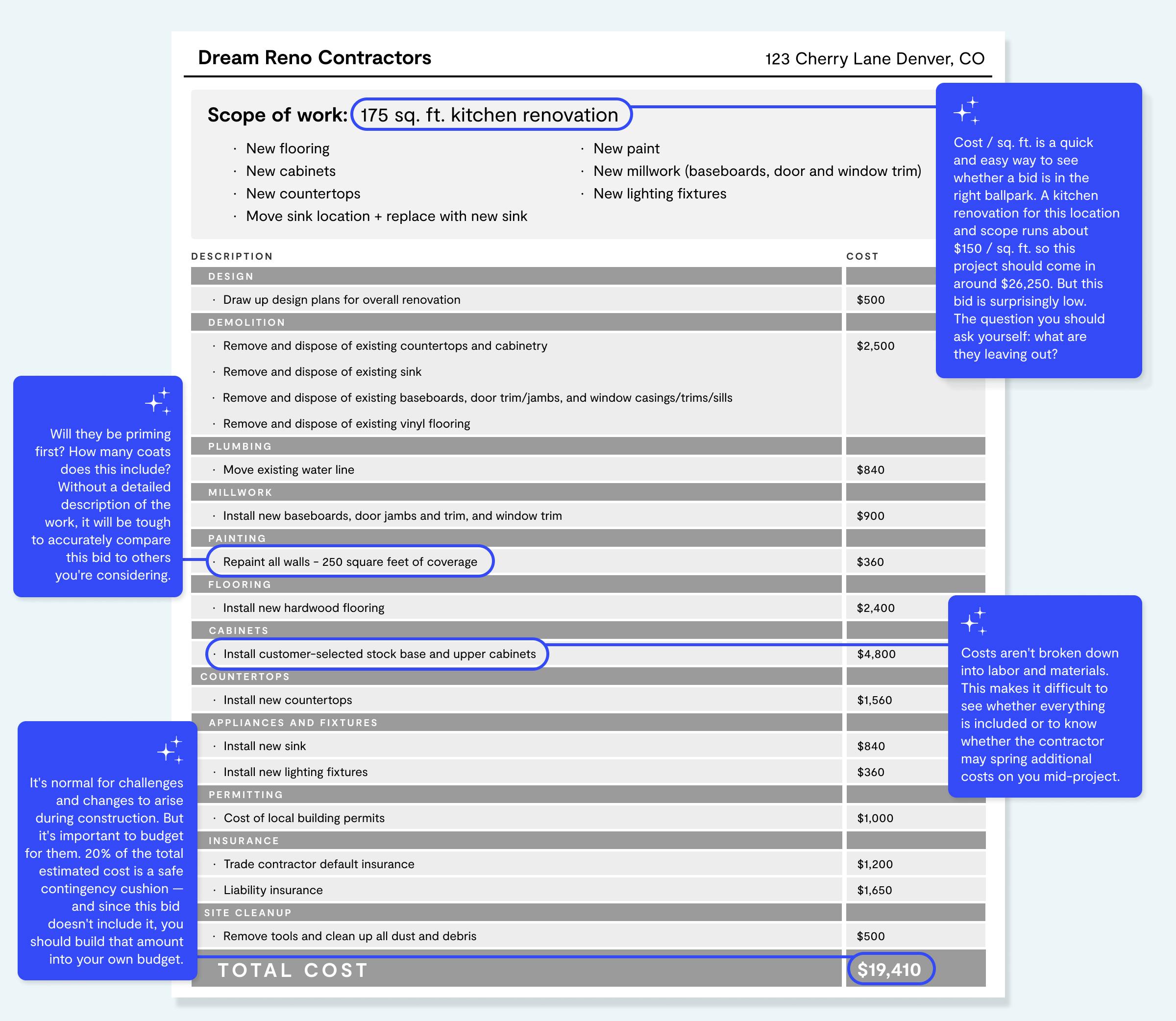 Red flags in a contractor's bid
As you review contractor bids, you'll also want to be on the lookout for anything that smacks of unfair practices — or worse yet, a serious scam. Here are a few red flags to look out for as you collect and assess contractor bids.
1. A hefty deposit: A down payment provides some assurance to the contractor that you are going through with the project. Some states limit the deposit amount, so check the rules within your own jurisdiction. For example, 10% is the maximum allowed in California — and a standard rule of thumb when there are no legal limits. Matt Linn, one of Realm's Homeowner Advisors, suggests asking the contractor what the deposit is being used for. "Sometimes a sizable deposit is needed to cover the upfront cost of the windows and doors and appliances, especially considering the ongoing supply chain issues. But if they're trying to collect a 40-50% deposit without qualifying why, that's a big red flag."
2. Upfront payments: Other than for the initial deposit, you should only pay for completed work. These "progress payments" can be tied to certain benchmarks, such as the completion of electrical work, plumbing, drywall, flooring, and so on. Payment schedules on smaller projects can be spaced evenly over the course of the work. In all instances, the final 15% should be held until after every aspect of the project, including the project wrap up, has been completed. 
3. Cash payments: If your contractor asks for cash, it's likely a scam. Pay by check or credit card for smaller projects or arrange financing for larger ones. 
4. Lowball bid: If it sounds too good to be true, it is. In this case the contractor will be cutting corners or is throwing down a low bid to get the job — fully expecting to hit you with multiple, costly change orders once work begins. Toss this one out.
5. Over-the-top bid: On the flip side, a bid that is excessively high can signal that the contractor is not interested in taking on jobs that don't fall within that price range or is not going to be mindful of your budgetary concerns.
6. Lack of transparency: A bid that doesn't line-item the costs is suspect. Linn says he's seen it all, from "Kitchen remodel: $50,000" on a pdf to an eight-page bid divided into categories. What you want is a breakdown of costs. Details also show you that the contractor fully grasps the scope of the work. 
7. Unrealistic timelines: Do not let magical thinking (and your desire for a rapid turnaround) cloud your judgment. Construction work takes time, even more so recently with delivery delays and shortages due to the pandemic. 
Reviewing the contractor's agreement
Although rare, a refusal to sign a written contract is the biggest red flag of all. While a contractor may try to convince you otherwise, the bid is not a binding contract. Nor is a verbal or email agreement. 
You need a written agreement that contains sufficient detail about the project cost, duration, materials, and third-party labor. It should also have provisions to protect yourself and your home from liability claims and in the case of default by the contractor. 
Specifically, you'll want to ensure the agreement provides for the following: 
Payment schedule, including deposit amount
Proof of liability and worker's comp policies
Express limited warranty, which guarantees the contractor's work for a stated time period (usually one year from completion)
Lien waivers to prevent subcontractors and suppliers from putting a lien on your house (a legal claim on your property) if they are unpaid by the contractor
Change order clause specifying the rate that will be charged for certain changes, often those that represent a 5% or greater increase in total project cost
Dispute resolution clause, in case there is a falling out
Written procedural list (aka punch list) for closing the project
Independent contractors often rely on standard contractor agreement forms, such as those put together by the American Institute of Architects (AIA). Design-build firms may have their own contracts, which will incorporate the design and build phases. 
Although not essential, having an experienced attorney review the contract can offer peace of mind. Your architect or interior designer will also know what to be on the lookout for in a general contractor agreement. 
Why it helps to use Realm before getting bids
Having a clear idea of your budget is essential to being an informed homeowner. The more prepared you are, the more accurate your bids and the more the contractor will respect your opinion.
Being upfront about your true budget helps clarify the scope of the project and avoid unnecessary time and trouble on your part and theirs. Be aware that this stance runs counter to some "expert" advice that suggests you should wait and see what the contractors bid, to see if you catch them price gouging. 
Rather than trying to bait and switch your potential contractors, it's better to go into your bid assessment informed and confident that you know how much your project should cost. You can use Realm's free dashboard to put together an accurate, unbiased budget — and then stick to that budget and be transparent about it with your contractor.
When you plan a project on your Realm dashboard, you get a project cost estimate specific to your property. That's especially important because certain cost factors, like labor, can be highly location-dependent. Realm's project estimates include the cost of labor. Our data-driven pricing tools account for the hours it will take to do a project, the tradespeople working those hours, and standard labor rates in your area. Realistic budget in hand, you can forge ahead confidently in gathering and evaluating contractor bids — and signing a contractor agreement that covers all the essential bases. 
If you live in California, Realm's Advisory service can connect you with our network of vetted contractors. Our Advisors will help you source bids and provide guidance throughout the bid process, so you know you're getting the right person for the job at the right price. 
Frequently asked questions
How much does it cost to hire a contractor? 
A general contractor will typically charge a "cost plus" or fixed-price rate, typically 20-50% of the total project cost (higher for more complex jobs and in cities with higher labor and material costs, such as San Francisco and Chicago). 
Most design-build firms provide detailed pricing information on their websites and base their pricing on square footage — the median baseline is anywhere from $200 to $400 per square foot. This all-inclusive fee covers architectural designs, construction labor and materials, permits, and third-party providers. You can ask for the design and build costs to be separated for full transparency in pricing. 
What is a bid versus an estimate or a quote?
Generally speaking, an estimate is a rough ballpark figure based on an initial discussion. Quotes go one step further in being a fixed job cost for a specific amount of time. These are often what you would get from a subcontractor for a one-off job. Bids on the other hand provide much more detail than estimates and quotes and are used by contractors for anything other than the most basic of projects.
Why do contractor bids vary so much? 
It's all too common to receive contractor bids that differ by a lot. Let's say you get bids ranging from $35,000 to $60,000 for a kitchen renovation. Often there are legitimate reasons having to do with the scope of the work and certain assumptions about how the work will be done. For example, one bid might price out two coats of primer and three coats of paint where another one has only one primer coat and two color coats. Those variances can add up when spread over the entire project. Even when the architectural plans and specs are appropriately detailed, contractors have to interpret them. That's why it's important to ask questions and do your homework.
Published by Realm
Get more out of your biggest asset: your home. Realm shows you what your home could be worth & how to access more of its potential value. View more posts