How much does it cost to renovate your kitchen?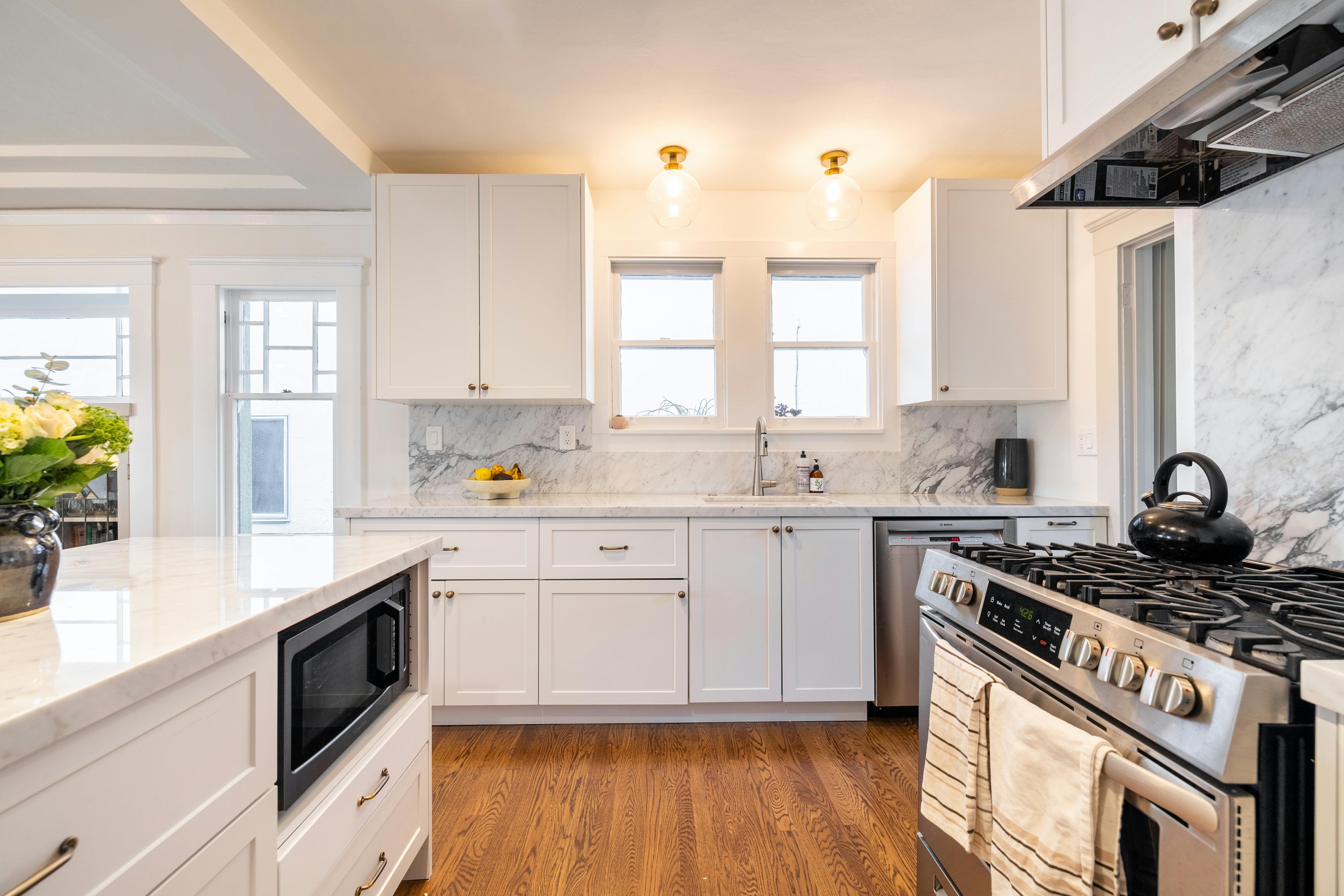 What you'll learn: 
Average kitchen renovation costs 
Kitchen renovation cost factors
Which items are most expensive and ways to save money
Kitchen renovation process 
How Realm can help with your kitchen renovation
If you're thinking about a kitchen renovation, chances are you've been gathering inspiration photos and imagining how you want the space to look, function, and feel. After all, your kitchen is the heart of your home. Countless meals and memories are made there. And of course, it's where (inexplicably) everyone at the party gathers. So it's no wonder that you want a kitchen that works for you. The important question is: how much will it cost to get the kitchen of your dreams? 
Here, we'll walk through everything you need to know about kitchen renovation costs and how to plan for a successful project. Let's jump in!  
What's the average cost of a kitchen renovation?
While many people spend thousands (even tens of thousands) of dollars on their kitchen remodels, you can successfully complete a kitchen renovation with a variety of budgets. What's important to know is that your costs depend on the scope of your project. The more you need to change, the more expensive the renovation will be. 
Generally speaking, there are few guidelines for your kitchen renovation budget. The total cost should fall between 5 and 15% of your home value, according to the National Kitchen and Bath Association. These limits ensure you recoup your home improvement costs by adding to your home's value. It may also help to think about your budget as a cost per square foot. On average, most kitchen renovations cost between $100 - $250 per square foot. 
Before you begin your kitchen renovation, it's also important to establish what you're trying to accomplish. Here are some questions to consider when deciding on the scope of your remodel:
What can you reasonably afford to pay?
Do you need to make changes to your kitchen's layout?
Can you reuse any of your materials?
How much of the work can you do yourself?
What's the value of your home and the average property value in your area?
What's the expected return on your investment?
Depending on your answers, your kitchen renovation budget could be very different. Whether you're paying out of pocket or looking to finance your kitchen renovation, you need to have a reasonable estimate of how much it will cost.
Realm can help with that. When you log into your free Realm dashboard, you'll get an accurate kitchen renovation cost estimate, specific to your property. You can even customize your renovation plans to see how different finishes, appliances, and materials will impact your bottom line. And Realm's dashboard will also show you how much value the project will add to your home based on our proprietary data about nearby renovations and property values in your area.
Get an accurate budget for your kitchen renovation
Types of kitchen renovations and their costs
The key to getting your kitchen renovation to fit your budget is to consider the scope of your project. If you have a small budget, focus on economical kitchen upgrades that have a big impact. If you have a bigger budget, you can do a more complete overhaul. If you do plan to spend more on your kitchen renovation, it's also important to focus on changes that are most likely to give you a return on investment. No major kitchen remodel should be done without considering how much of the project cost you'll be able to recoup. 
The table below shows the different types of remodels you can do and average costs for each. When making your kitchen renovation plan, you definitely want to consider not only your budget but the amount of time the project will take to complete. 
| | | |
| --- | --- | --- |
| Type of remodel | Avg. cost range | What it entails |
| Facelift | $1,000 - $5,000 | Fresh wall paint, painting or staining cabinets, swapping finishes, changing hardware, and replacing lights. Can take a week or a little more to complete. |
| Modest | $5,000 - $20,000 | No significant changes to the layout, structure, electrical work, or plumbing. Refacing cabinets or replacing them with stock cabinetry. Laminate or vinyl flooring. Budget-friendly finishings. Can take several weeks to complete. |
| Mid-range | $20,000 - $50,000 | Some semi-custom work and some stock materials. Some high-end materials or finishings are mixed with budget-friendly materials and finishings. Some layout changes like installing a kitchen island. New flooring. Will take more than a month to complete. |
| High-end | $50,000 - $120,000 | Installing custom cabinetry, luxury materials, and designer finishings. Big changes to the layout that involve extensive plumbing and electrical work. Will take more than a month to complete. |
| Gut renovation | $120,000+ | Stripping your kitchen down to the studs and completely rebuilding. Will take more than two months to complete. |
Kitchen renovation cost factors
The main factors that influence the cost of your renovation include your location, the cost of raw materials, and labor:
Materials: The current rate for commodities (like lumber) can have a big impact on what you pay. Whether you purchase custom or stock items also affects your costs, plus the type of materials you use. For example, vinyl flooring is inexpensive, hardwood flooring is middle-range, and stone flooring is the most expensive. 
Labor: This cost is based on the going rate for all the specialists working on your project. In other words, your installation costs. And labor costs are heavily dependent on your location and the number of contractors available locally. High demand in your area and not enough people to do the work will push labor costs upward. 
Many first-time renovators forget to consider the cost for plumbing and electrical work. Unless you're a licensed plumber or electrician, you shouldn't do this work on your own. You might also forget to consider the cost of permits, which typically cost between $100 and $900, though they vary based on your location. You can get permitting prices from your local government.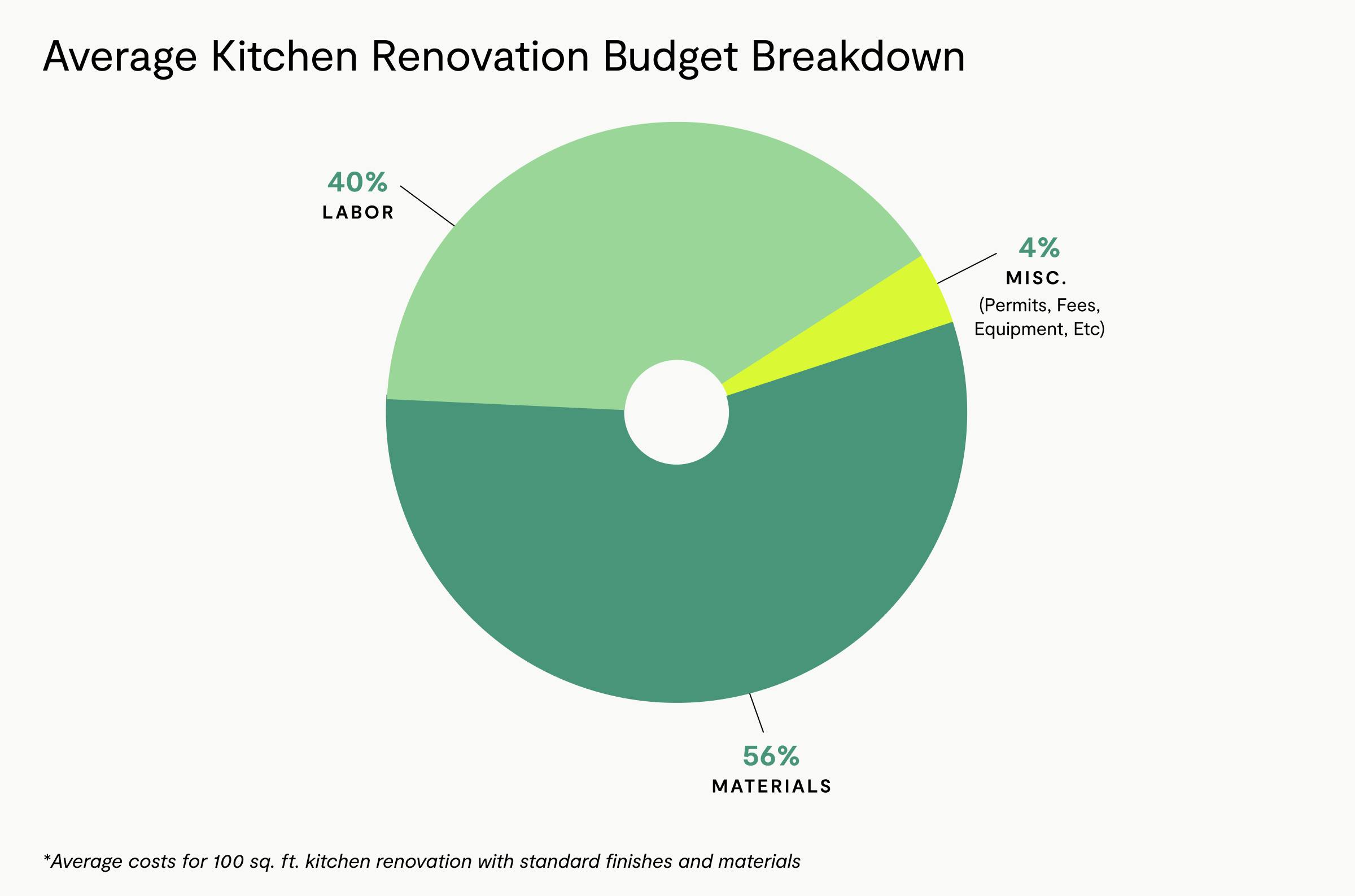 Big-ticket kitchen renovation items
The majority of a kitchen renovation budget goes toward a few big-ticket items. These are:
Cabinetry: Cabinets are essential to the functionality of your kitchen. Easy storage and organization make your kitchen a delight to work in. Because they dominate the kitchen, they're also a big part of your kitchen's aesthetics. 
Countertops: These are the icing on your cabinetry cake. You can choose from thousands of options for your new countertops. Higher-end materials can last years, so it's worth choosing materials and designs that look timeless, especially if you have plans to sell your home in the near future. 
Flooring: Tiling your floor, depending on the materials and how you source them, can cost a lot. Labor is also expensive. Choosing smaller tiles and using porcelain instead of natural stone can lower your costs. 
Appliances: There is a wide range of choices for your kitchen appliances — and that goes beyond stainless steel vs black vs white. High-end appliances may take a chunk out of your budget, but they last and can attract buyers. Appliances with a high Energy Star rating are more efficient and can save you money on energy costs. 
Walls: Painting, tiling, and demolishing walls all costs a lot. Tiling and demolition require professional help, which can raise costs substantially.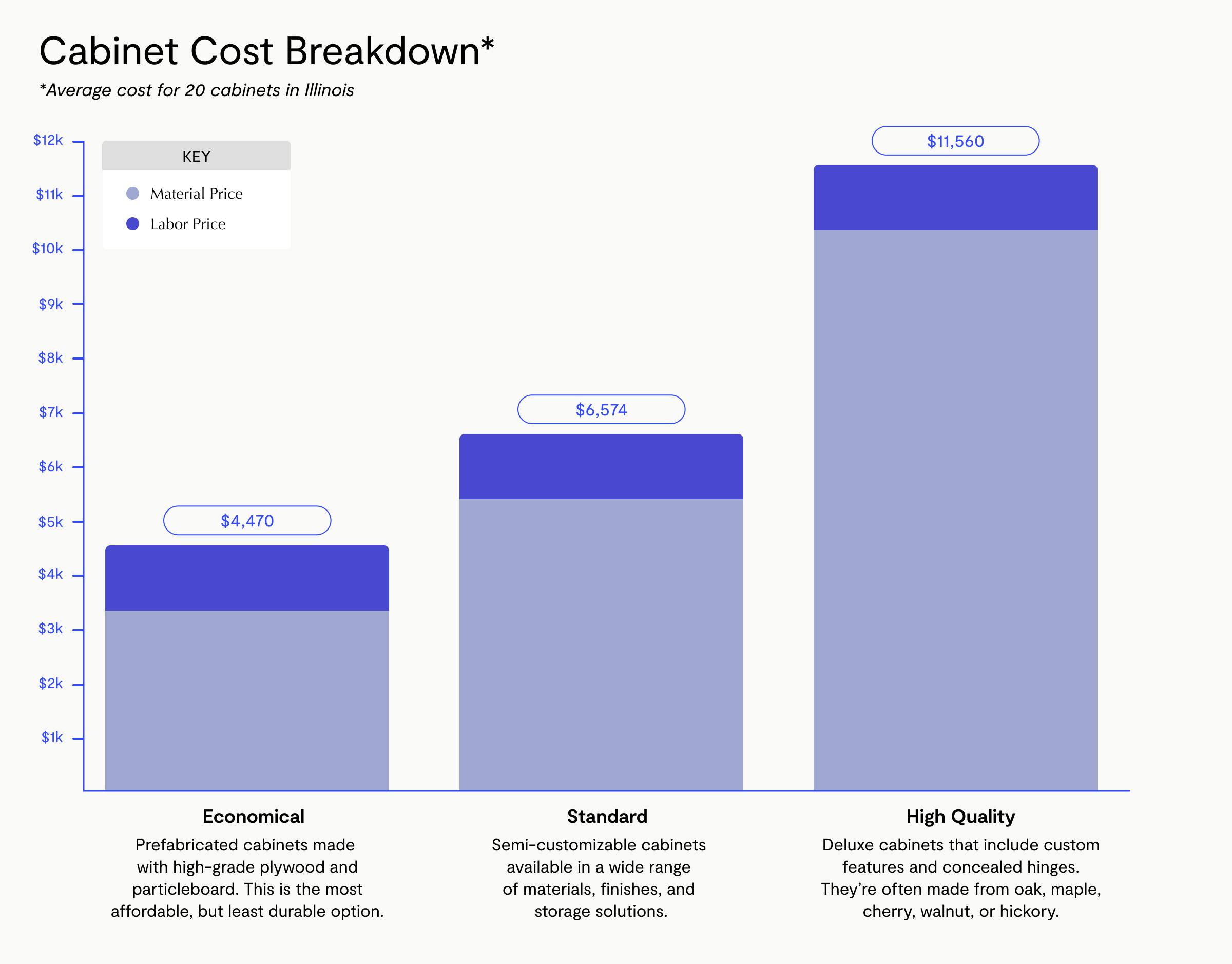 Where you can save
If your layout works already, stick with it! There's no need to make unnecessary — and costly — changes. Working with what you have is key to saving money. Another example would be finding a new sink that's the same dimensions as your old sink or just swapping out the faucet.
Because kitchen cabinets dominate remodel costs, try to reuse yours. Painting, restaining, and refinishing are inexpensive ways to refresh your existing cabinets. Changing colors, drawer pulls, and door handles make a huge impact at very little cost to you. 
Taking on some DIY projects, like installing faucets and that tile backsplash, can save you $1,000 or more. Buying used is also a great option. For example, instead of buying new appliances, look for higher-end ones that are gently used. 
You can get quality appliances and cabinetry through resellers. If you have a small kitchen, look for discounts on offcuts, which are leftover pieces from other projects. You can also save money by purchasing end of stock materials, like countertops  — meaning that item or style is no longer available and the retailer is looking to sell off their remaining inventory. 
Customize your kitchen renovation plan
The kitchen renovation process from start to finish
Getting a new kitchen is a long process from inspiration to execution. Remember that the more work you put in at the beginning — planning the remodeling project and hiring the right people — the less you'll have to do later. 
Here's an overview of the kitchen renovation process:
Stage 1: Planning
Your first step is to understand your budget. How much can you reasonably afford to put toward your project? You can use cash savings or leverage the equity in your home to pay for your project. 
As we mentioned above, you also need to determine the scope of your project. To plan your remodel properly, you need to start with what you want and what you need. Your needs, like better functionality, come before your wants. But don't take out all the fun! Just be sure you budget for the essentials first. 
Realm Tip: Consider property values in your neighborhood when planning your renovation. When it comes to reselling your home, your neighborhood will attract buyers with a particular budget range. Spending on a kitchen renovation that's out of proportion with what your neighborhood attracts may make it more difficult to recoup your costs. Your free Realm dashboard makes it easy to see how much value your kitchen renovation will add to your home, so you can make wise decisions about how much to invest. 
Stage 2: Hiring
Next, you need to decide on your team. That starts with deciding who you need to hire. For example, contractors, subcontractors, architects, and designers (more on this a little later). 
Once you decide on the type of professionals you need, find the right people to do the job. Look for people with an excellent reputation, preferably people who specialize in kitchen work. You should examine their portfolios carefully and choose someone whose work you love. You also want someone who understands what you want and can work with your budget. 
If you're not hiring a contractor or other professional to manage your permits, you'll want to take care of permitting at this stage. 
Stage 3: Construction
The actual remodeling work begins with preparing your home. If you're doing a more substantial remodel, you need to make a plan. Some people store meals in advance and reheat them with a microwave. Some use a utility sink as their main dishwashing station. The point is to have a plan before you lose access to your kitchen. 
Once you're ready for the work to begin, your remodel process will follow this general outline:
Demolition: Removing anything that won't be kept or repurposed. 
Structural preparation: Initial wall and framing work are done. 
Mechanical rough-in: Plumbing, wiring, and HVAC work are done and inspected. 
Walls: Drywall is hung and painted. Any ceiling work will also be finished at this point.
Flooring: Installation is started and completed.
Cabinetry and countertops: Your cabinets and countertops are installed. This process can take a long time to complete, as it's more complicated than it looks. 
Appliances and fixtures: Your appliances are installed after the cabinets are finished. Your plumbing and lighting fixtures are installed during this stage as well. 
Inspection: You and your project manager (contractor, architect, etc.) will walk through your kitchen. This is your time to ask any final questions and ensure the project is completed to your satisfaction. 
Stage 4: Completing the project
Your project manager will close out the permitting process and should hire a cleaning crew to prepare your kitchen for use. You can hire a housecleaner or clean up yourself to save a little money. 
You'll also need to make the final payment for the work that was completed. If there is anything that is not up to your expectations, you should discuss it with your project manager during the final inspection. 
Who to hire for a kitchen renovation
For all but the smallest projects, you'll need a contractor. If you need to change your layout, you may also want to hire an architect. Working with a designer is also advised, as they can help you choose materials that fit your budget, style, and have wide appeal. Let's take a closer look at each:
Contractors manage the execution of your renovation plans. They will hire subcontractors to take care of plumbing, electrical work, flooring, and more. Some may offer design work, and some have in-house architects, which can save you on costs. Contractors will have intimate knowledge of local permitting requirements. 
Architects can reimagine the layout of your kitchen and execute plans in the most ergonomic, energy-efficient, and cost-effective way possible. Architects are a must for any project that involves structural changes. 
Designers do more than make your space visually appealing. They create stylish spaces made to function for your particular needs. They're also knowledgeable about what has the best resale potential so that you can recoup the money you spend on your renovation. 
You want to look for people who specialize in kitchen design. A generalist will do, but a specialist is more likely to get you the best return on your investment. Look for people who are licensed or nationally certified. For example, the National Association of Home Builders offers training and certification programs for contractors and other building professionals. And the Better Business Bureau provides letter grades for local businesses, including contractors. It's a great place to find reliable reviews (as well as complaints filed by previous customers). 
If you have a smaller project, you may want to manage it on your own. You can hire plumbers or electricians and do some of the other work yourself. Just be sure that you understand local rules and regulations. You don't want to put time and money into a project only to learn that you home isn't up to code. 
How Realm can help with your kitchen renovation 
Realm's free dashboard is an essential tool for planning your dream kitchen renovation. You can use Realm to build a budget for your project by creating a project plan customized to your home and your needs, including the overall quality of your renovation (from economical to high-end), your specific square footage, the appliances and fixtures you want and much more. Not only does this help you understand where your budget will go, you'll also have an accurate estimate so you know how much a contractor should be charging you. 
Realm uses unbiased data, both for the cost of renovating and the resulting home value. That means you can start with a clear picture of what you can expect to recoup on your investment. And it means you'll go into your kitchen renovation with confidence — so you can focus on getting the kitchen you've always wanted! 
Frequently asked questions
How much does it cost to renovate an entire kitchen?
If you search online, you may find estimates ranging from $10,000 - $40,000. Why such a huge range? Kitchen renovation costs vary widely depending on factors like your location, the scope of your project, and your kitchen size. Realm's free dashboard allows you to build a customized plan and provides accurate cost estimates specific to your location. 
What is the most expensive part of a kitchen remodel?
For most kitchen renovations, the cabinetry is the most expensive part. You can limit your cabinetry expenses significantly by buying prefabricated (aka stock) cabinetry or upcycling your current cabinets. You can also purchase cabinetry second hand and repurpose those. 
How much should a 10x10 kitchen remodel cost?
That very much depends on the scope of your remodel. If you assume that the average kitchen renovation costs $100 - $250 per square foot, your budget for a 100 square for remodel would fall between $10,000 - $25,000. However, your location, labor costs, and quality of your materials and appliances can all have a huge impact on your bottom line. 
Can I remodel a kitchen for $5,000?
Yes, if you have a small kitchen and are able to keep your layout, cabinetry, and appliances. There are many inexpensive ways to add value to your kitchen and make it work better for you, such as repainting, updating your backsplash, changing fixtures, and resurfacing your countertops. 
Published by Realm
Get more out of your biggest asset: your home. Realm shows you what your home could be worth & how to access more of its potential value. View more posts