Finding the right contractor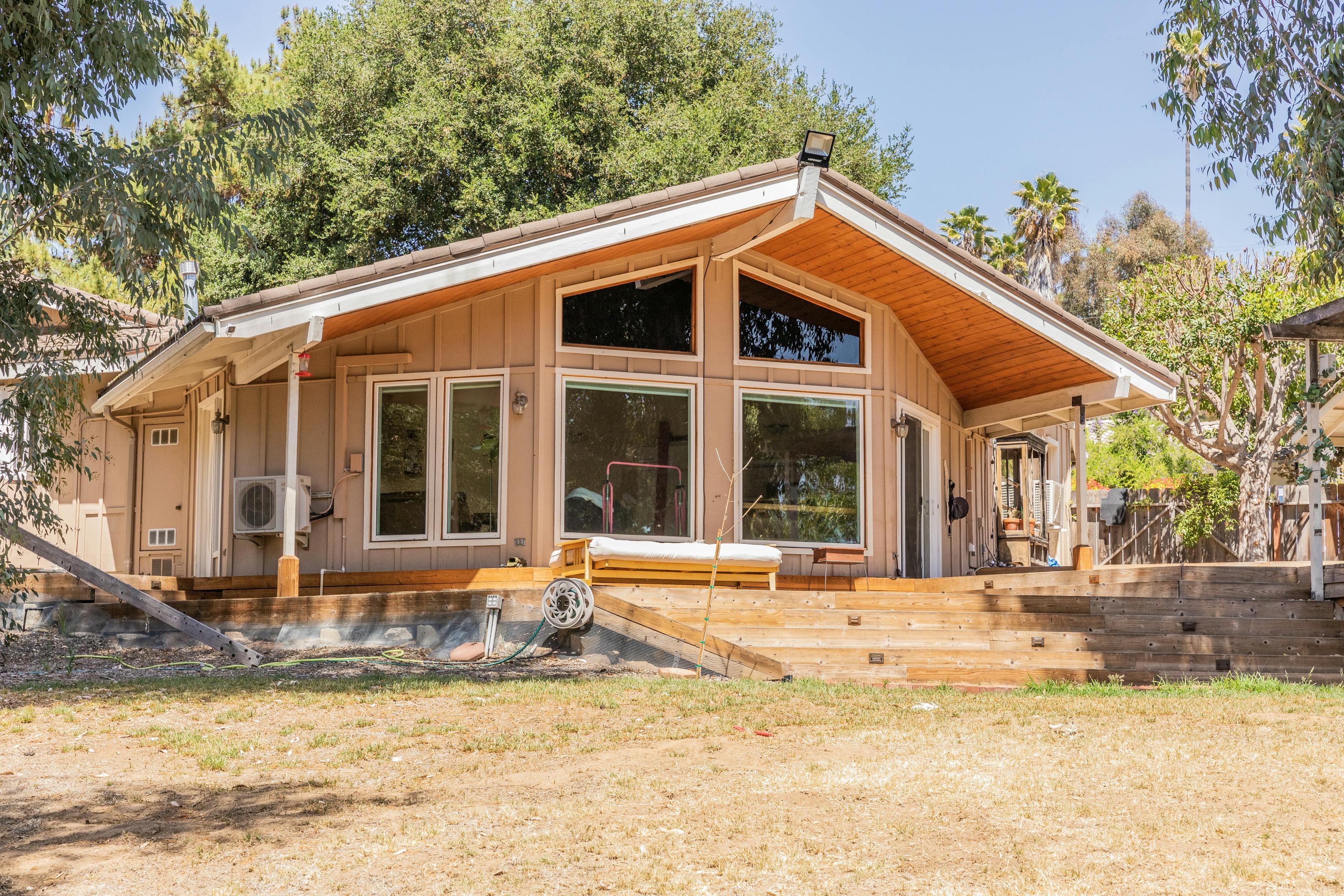 What you'll learn: 
What the different types of contractors do
How to find a reliable contractor
What to look for in a contractor
Questions to ask potential contractors
What to ask contractor references
Deciding to move ahead with a home renovation is no easy feat. Odds are you've spent months (maybe even years!) gathering ideas and inspiration and pocketing money for your dream project. 
Whether it's a bathroom remodel, kitchen renovation, or a brand-new primary bedroom suite, you'll need to hire a contractor to handle the job. It can be confusing to know what kind of contractor you need — general contractor, subcontractor, and what is a design-build contractor anyway?
You probably also have questions about vetting contractors to ensure they're above board. Entrusting your home to a stranger takes a leap of faith. Searching online turns up horror stories about shoddy work, people walking off the job mid-stream, or scam artists who take your money, leaving your hard-earned investment (and hopes) in the dust.
If you're wondering how to find a reliable, reputable contractor, rest assured: This article sets forth tried-and-true ways to take the guesswork out of the endeavor. Consider this your go-to guide for not only finding a skilled professional, but also one that's compatible with your communication style and overall project goals.  
What are the different types of contractors? 
 To get started, it's important to understand the different types of contractors and what they do. This is the foundation to finding the best pro for your project. Which type of contractor you choose depends largely on your design goals and budget, as well as your comfort level in navigating the process. 
General contractor (GC): The most traditional scenario involves a GC at the helm of a home construction project. The GC often works with an architect or other design professional when the project involves structural work, such as opening up walls or adding a second floor. 
A general contractor is responsible for:
Implementing the design plans created by an architect or interior designer 
Estimating the project cost based on the plans 
Devising the build or construction schedule 
Obtaining the necessary permits to ensure compliance with local building codes 
Purchasing all materials and equipment (sometimes, the homeowner will purchase these, but the GC will provide support and guidance)
Retaining the services of subcontractors as needed
Overseeing the day-to-day activities at the project site
Serving as liaison between the designer, project crew, and homeowner
Covering liability for property damage and bodily injury on the job site
Design-build contractor (DB): As the name implies, a design-build contractor handles both the design phase and build phase, for a one-stop shop. Unlike with a general contractor, you do not need to hire a separate architect or engineer.
Responsibilities of a design-build contractor include everything described above for general contractors, plus the creation of the design plans by one of the staff architects or designers.
Ultimately, the convenience of working with only one team from start to finish might outweigh any concerns over aesthetics or costs, especially if you have a sizable budget or are not looking for independent design expertise. Otherwise, you might want to stick with using a separate designer and general contractor.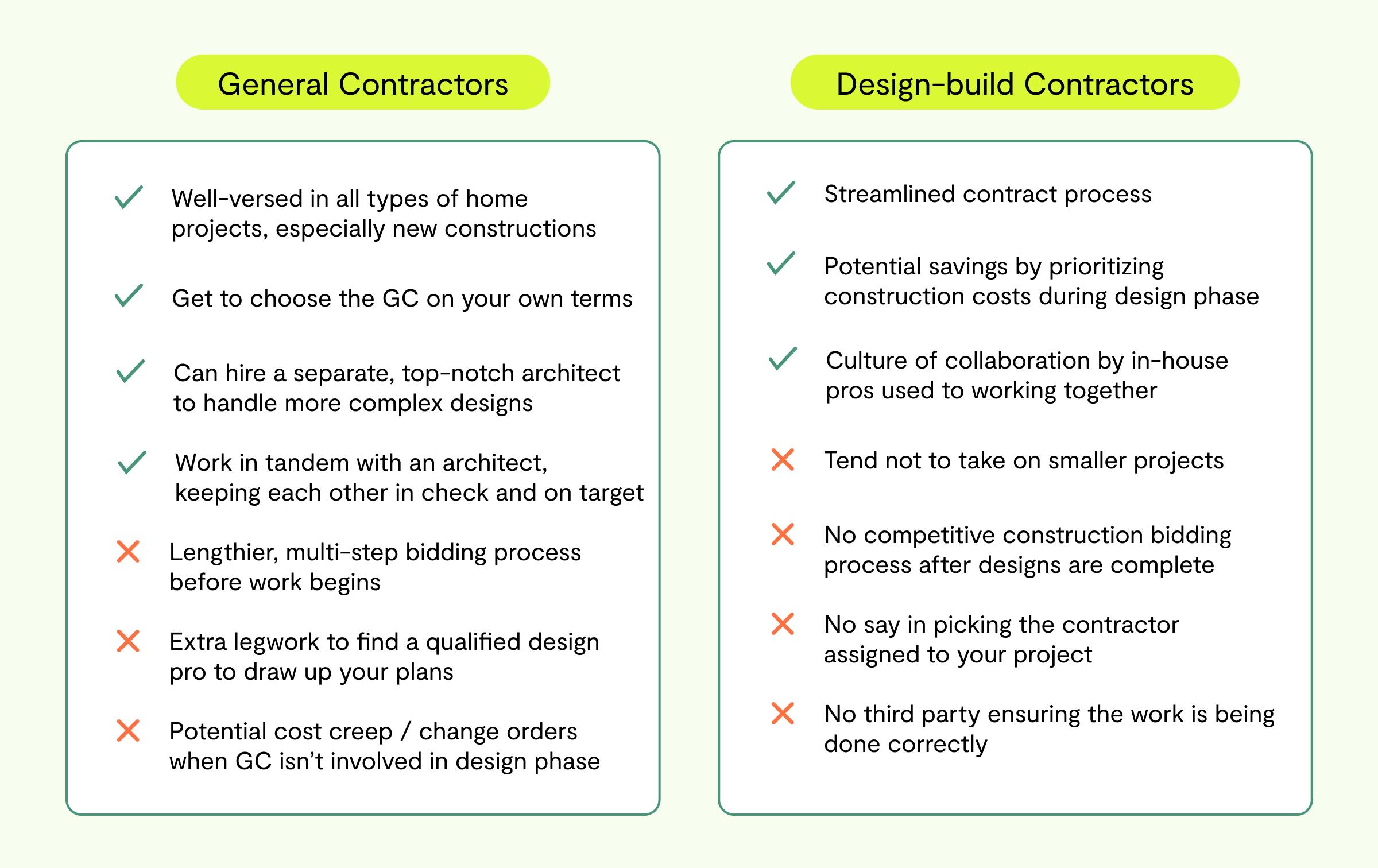 Subcontractors: Specialty contractors have more focused areas of expertise in a particular trade. GCs or design-build contractors may bring on subcontractors to do specific jobs or homeowners can hire subcontractors directly for one-off jobs. However, if your project involves hiring multiple trades, having a GC manage the various specialists will streamline scheduling, ensure proper licensing, and make insuring the project easier, as the GC's insurance policy will cover the subcontractors. 
Here are some common subcontractor specialties:
Carpentry
Roofing
Door and window replacement
Flooring
Countertop and cabinet fabricators
Painting
Electrical work
Plumbing
HVAC (heating, ventilation, and air-conditioning)
Appliance installation
Landscape design
Where to look for a reliable contractor
Word of mouth is still the most common way to find a qualified contractor. Asking friends, relatives, colleagues, and other people you trust if they have any recommendations can be helpful, but only to a point. Their opinion can be biased in terms of both style and quality — not everyone shares the same level of scrutiny. And these well-meaning folks don't necessarily have vetting expertise.
Neighbors can be useful too — a pro who is already familiar with local home styles, building codes, and regulations will be that much more ahead of the game. Construction sites are a contractor's best "calling card," so there is a built-in incentive to do solid work in attracting new clients. 
Realm tip: Why not collect business cards from any promising-looking neighborhood construction sites? Then, you can follow up with the homeowner to ask about their experience with the contractor and get more details about their project. 
Established real estate agencies and local building suppliers can also make contractor recommendations. Just remember that these recs could be based on factors other than a solid work performance (like personal relationships). 
For more objective guidance, turn to professional trade associations, notably the National Association of Home Builders (NAHB) and its 50 state chapters, the National Association of the Remodeling Industry (NARI), and the National Kitchen & Bath Association (NKBA). You may also want to check with your Chamber of Commerce for a listing of local professionals.
The Better Business Bureau is yet another — and perhaps the most reliable — resource for finding accredited contractors. You can opt to see all pros in your area, which are rated on a scale of A+ to F. Or you can search for a specific business to see if any complaints have been filed, and if so, how those were resolved.
For many homeowners, Realm's free-to-use dashboard provides you with top contractors in your area. Using our unbiased, proprietary data, we show you which contractors are most used in your neighborhood and how many projects they've completed. When you're in your dashboard, simply scroll down to see "Your neighbors' top contractors." 
Find top contractors in your area
How do you make sure you're hiring the right contractor? 
Once you have a list of potential contractors, it's time to do your due diligence. Don't rush this process. Remember: The quality of the job begins and ends with that person's expertise. Trust is paramount.

Step 1: Preliminary research 
Professional presence: You can tell a lot from the contractor's website — is it polished or slapdash? That could be an indication of the caliber of their work. When available, scan their portfolio to see if the work matches your expectations and aesthetics. 
Professional reviews: A basic search online should turn up reviews from prior customers. However, it's hard to know whether to trust these takes. A customer may have had a personal connection to the contractor, or their project may have been wildly different in size and scope from your own. A better option: Check the contractor's rating with the Better Business Bureau. 
Proper licensing: It can be tempting to save money by hiring an unlicensed contractor, but doing so can put you at financial risk. Notably, you'll be financially liable if a worker is injured while on your property or if your property is damaged. You can verify licensing requirements and check for any blemishes on the contractor's record with your state's licensing board, usually managed under the state's consumer protection agency. 
Step 2: Conversations with potential contractors 
Know that contractors are fielding more inquiries than they can take on, so in a way that may be interviewing you too. Showing that you have a plan and are going to be easy to work with are key — as is demonstrating that you are not going to be anyone's fool. Before you reach out, have a clear budget and timeline in mind.
You'll also want questions ready to guide your contractor conversations. Here's a list of what you should ask: 
Experience
1. How long have you worked in the industry? A seasoned pro is going to bring invaluable experience and a network of subcontractors to the job. That said, you could try out an eager new operation with a smaller project to get a sense of their work.

2. How much experience do you have with similar jobs? Find out if the contractor has done the type of work you are planning. If so, ask: Can I see before-and-after pictures of other projects like mine? Better yet, can I see the finished work in person? 
Project details
3. When would you be able to take on a project like mine? In-demand contractors may already have jobs lined up for the next several months, so ask yourself how long you are willing to wait.
4. Who will be managing the job? What you want to hear is "me" not "we" or "they." This holds true even when interviewing the contractor at a design-build firm.
5. What do your services include? The right answer includes all the responsibilities outlined above. According to Matt Linn, one of Realm's Homeowner Advisors, "You may want to specifically ask if the general contractor prefers to be part of the design phase or not — some like to be more proactive in making suggestions."
6. How do you normally charge for this type of work? Fixed-rate fees are the norm for both general and design-build contractors rather than hourly or weekly rates. 
7. Do you offer a service warranty? It's common for contractors to guarantee their work for a period of time, usually up to a year upon job completion. 
Communication

8. How do you tend to communicate during the project? Are they open to daily contact, or do they usually provide once-a-week recaps? The mode of communication is also important. If you prefer a phone call over texts or emails, be sure to say so now in case there is any hesitation. 

9. How often do you meet with clients during the build phase? Scheduled face-to-face meetings keep the project on track and everyone accountable. Be sure to review the work at designated benchmarks tied to progress payments (payments made as work milestones are completed). 

10. What are some recent problems and how did you resolve them? This is the contractor version of the open-ended job interview question — and it can trigger all sorts of responses. Being honest shows integrity. The second part of the question is indicative of the contractor's credibility.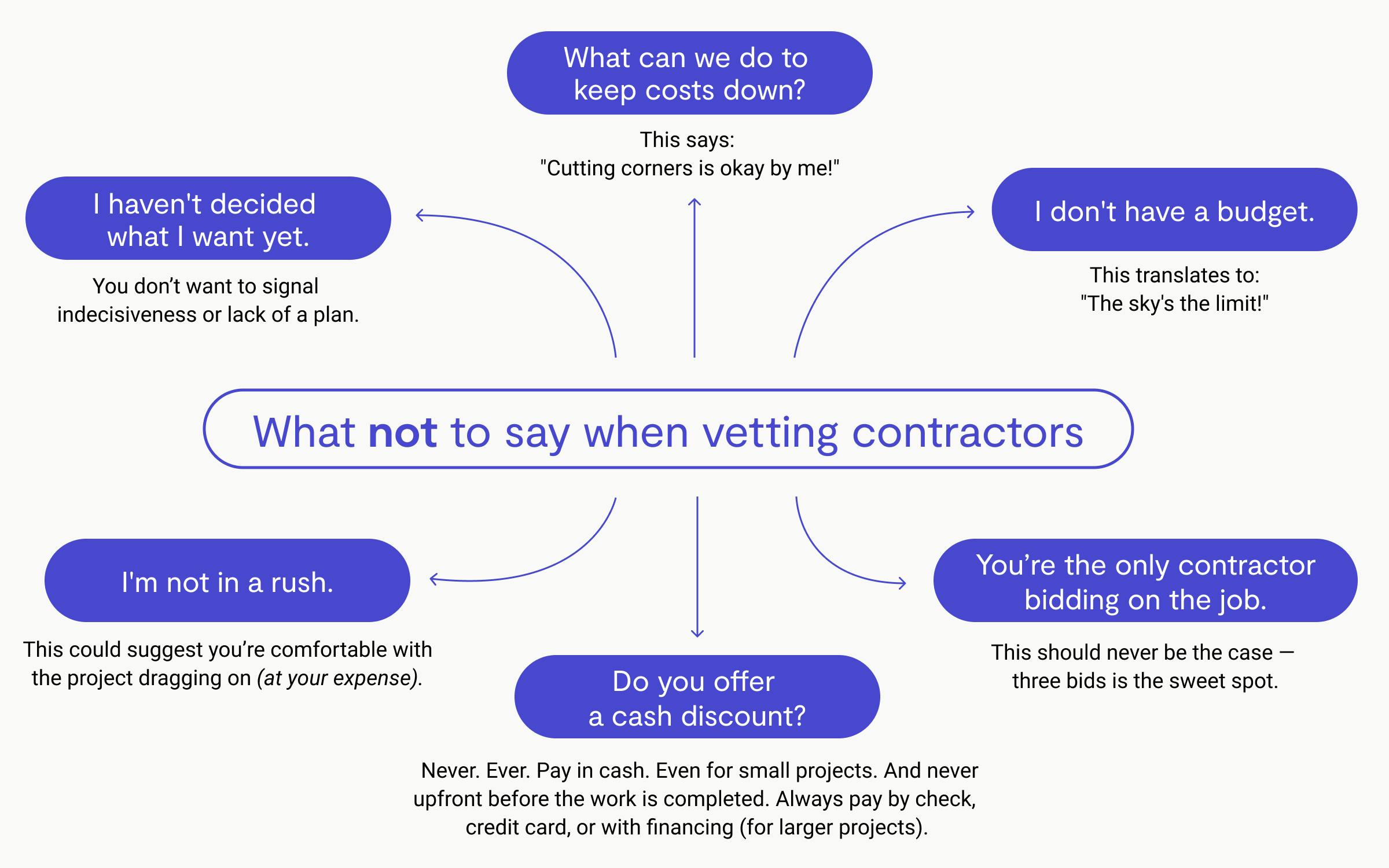 If at any time the contractor brushes off an answer ("That's all on my website") or seems offended by a question ("My record speaks for itself"), consider how the person will respond to a steady stream of questions when you are in the thick of the project. 
Step 3: Customer reference checks

Satisfied with the contractor's responses and demeanor during the phone call? Now's the time to ask for at least three former clients to contact as references — ideally those with work that was of a similar nature to yours. 
Here's a list of what to ask to make sure you cover your bases: 
1. What was the nature of your project? If their property and project don't resemble your own job — say, they added an enclosed deck whereas you're gut-renovating your kitchen — you can still proceed with other questions, but you may want to go back to the contractor for a more relatable reference. 
2. When was the job completed? Work from a decade ago might not be representative of the contractor's current performance. Maybe they've experienced problems in cash flow and their equipment is no longer up to snuff. An older business may not be keeping up with the latest techniques. 
3. Was the work completed on time? A negative response isn't necessarily a dealbreaker. Instead, probe into the reasons behind the holdup — pandemic-related setbacks and extreme weather being understandable and unavoidable. But if delays were caused by mismanagement, make sure to compare this to the other two references' experiences. 
4. Did the project come in over budget? "Yes" is not inherently cause for immediate concern. Dig into why and by how much. Did the homeowner alter their plans midstream (goodbye granite countertop, hello Carrara marble)? Pandemic-based interruptions could also be the culprit. The key is to look for a pattern among references to spot a contractor that routinely underestimates their bid.
5. Were you satisfied with the result? A few minor quibbles are fine. Sometimes those can be traced back to the design plans (a kitchen drawer that bangs into the refrigerator) or the homeowner's own choices. Just make sure the client is pleased with the contractor's work and that it has held up over time. 
6. Why did you choose this contractor? Watch out for any personal connections. All references should be objective. 
7. Were you happy with the level of communication? You want to find out the frequency and mode of contact. Also, was the contractor responsive to their concerns? Did they feel like they had a voice in the process? 
8. Would you use this contractor again? Here is where you want to hear a resounding, "Absolutely!" Anything less is your clue to move on. 
Step 4: Financial background checks

Most experts recommend asking the contractor for financial references, such as the local bank where the business has an account, as well as the name of suppliers and subcontractors that you can speak with to ensure the contractor has been timely with payments.
You also want to make sure that the contractor has the proper insurance. In most states, general contractors are required to carry at least two types of policies: contractor's liability and worker's compensation. It's important to make sure the contractor's coverage will remain active for the duration of your project. Ask for copies of the policies and contact the insurance agency to verify that the policies will remain in effect throughout the build phase.
Using Realm to prepare
One of the best ways to ensure you hire the right contractor is to have a clear vision of what you want and what you expect to pay. Using Realm's free dashboard to build an accurate project estimate will give you the information you need to enter into contractor conversations with confidence. Plus, you can rest assured that your estimate is specific to your property and based on unbiased data. 
Although the process of finding a contractor may seem like a lot of work, being diligent and thorough before you hire a contractor will lay the groundwork for a smooth and successful home project. And once you've narrowed down your options to a few viable contractors, be sure to check out our guide to contractor bids. 
Frequently asked questions 
When should I hire a handyman or a contractor?
Simple home repairs or maintenance tasks call for a handyman, whereas more specialized jobs — plumbing, electrical, or painting — call for a subcontractor. If more than one of those trades are involved in your project, get a general contractor or a design-build contractor to oversee the work.
Do I need an architect and a general contractor?
Some general contractors may dabble in new home designs, but they are exceptions to the general rule. Besides having superior design expertise, an architect or interior design will be your advocate in clearly setting your goals in detailed plans, helping to evaluate contractor bids, and monitoring the work throughout the project. 
The earlier the better, so long as you are prepared to proceed — no contractor will agree to work at an ambiguous future date. Contractors typically won't start a project immediately either. The general guidance is that you should hire a contractor a month or two before the project's start time. (At that time, you'll pay a small deposit to hold the contractor for your job. You shouldn't make a large up-front payment before work begins.) That said, contractors are backlogged these days so be sure to ask when they are able to take on new projects. 
Published by Realm
Get more out of your biggest asset: your home. Realm shows you what your home could be worth & how to access more of its potential value. View more posts