What is SB-9? (And why does it matter to you?)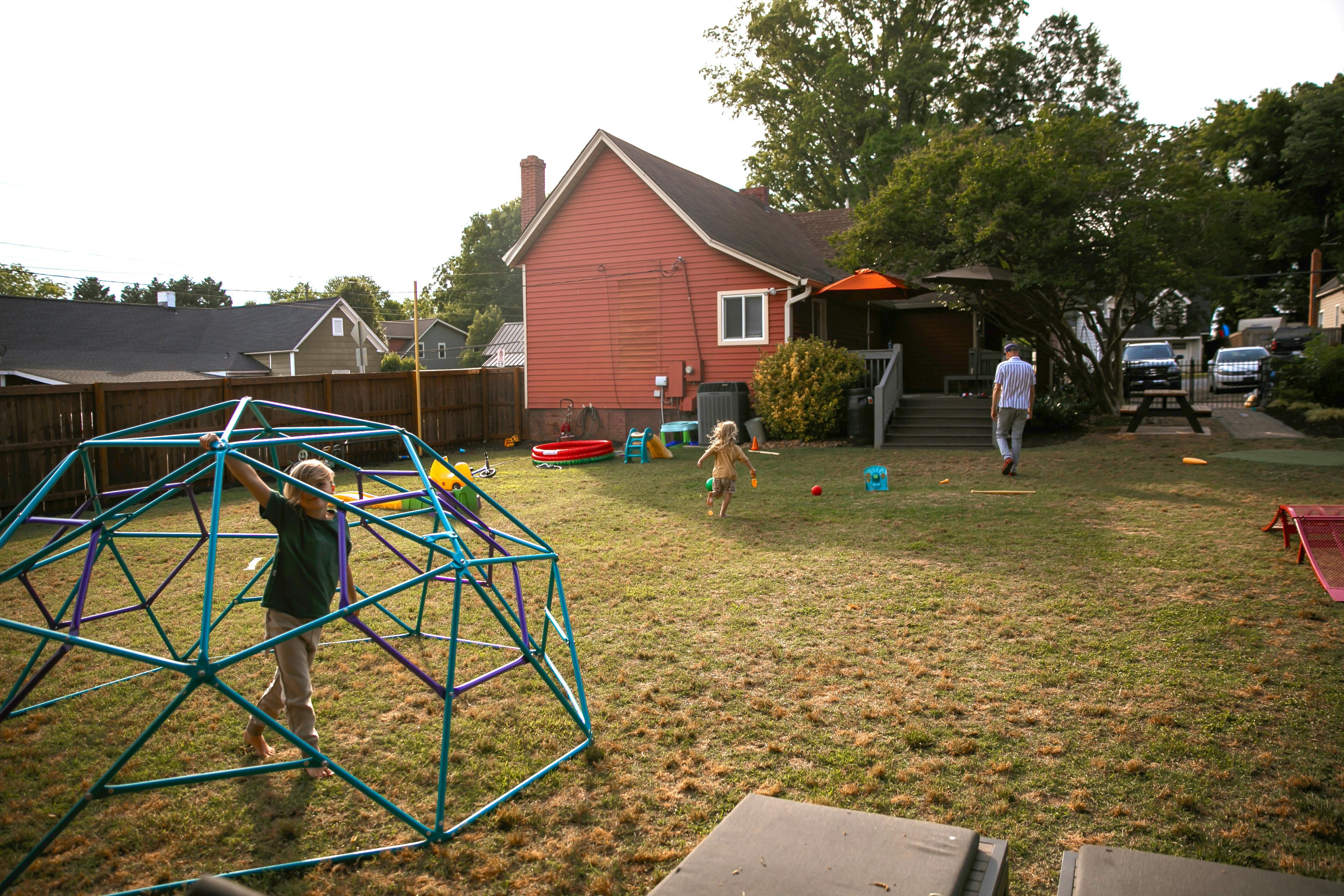 What you'll learn: 
What is SB-9? 
What SB-9 allows homeowners to do 
Who is eligible to use SB-9?
The potential benefits and drawbacks 
Who you'll need to hire if you do an SB-9 project
How Realm can help 
Do you dream of building a second home on your property? Maybe create a place for family members to live or bring in some extra cash by renting it out? Or would you like to be able to build additional housing units to generate rental income? What about dividing your property and selling the other lot, perhaps to help fund college tuition or your retirement? All these scenarios are now possible thanks to the passage of a new California state zoning law that allows homeowners more freedom and flexibility in what they can do on their own property. 
Indeed, you may have heard about Senate Bill 9 (SB-9), which was signed into law in September 2021 and goes into effect on January 1, 2022. But you may be wondering how SB-9 really works and whether you're eligible — and if so, what are the potential benefits and drawbacks?
Officially known as the California Housing Opportunity and More Efficiency ("HOME") Act, SB-9 aims to address the state's escalating home prices and housing shortage given the predominance of so-called "single-family zones" across the state, in which homeowners have traditionally been restricted to a one-house-per-lot rule. (For context, the California Association of Realtors reported that home prices jumped 20% during the pandemic and forecast another 5.2% jump in 2022.) That's the 'why' behind the bill. The 'how' is that the bill will provide a pathway for private homeowners to create more affordable housing units on their own properties — and then ideally to recoup their investment in rental income or sales. 
Any new law comes with lots of uncertainty around how it will be implemented, which will happen over time and at the local level. Meanwhile, you can start doing your homework by learning the facts as well as the forecasted outcome of SB-9.   
What does SB-9 allow? 
Effectively, SB-9 gives single-family homeowners two ways to harness their equity and add to the housing supply: You can build a second housing unit within your existing lot or you can split the lot and build new housing units on each, including single-family homes and duplexes. 
So let's say you decide to build a duplex on each lot — that would allow you to create four housing units where before there was only one single-family residence. Now imagine many homeowners doing that and you can see how the passage of SB-9 holds promise for radically scaling affordable housing units across the state. (And presumably other states will follow California's lead as part of a nationwide equitable housing movement.)
That said, if you're not interested in sharing your lot with a number of neighbors, you can keep your single-family residence as is, split your lot, and add another single-family home on the new lot — or sell the new lot if that's your goal.
The law also streamlines the approval process for SB-9 developments. Whereas before local agencies could simply deny these types of applications out of hand, now they must approve them unless the development will clearly violate local zoning standards, such as being too close to the street or too tall for your neighborhood. In those cases homeowners can revise the plans to comply with those standards and then receive the rubber-stamp ("by right") approval.
Who is eligible to use SB-9? 
Does your property qualify for SB-9 development? That's the first hurdle you must clear. Here's a handy checklist to help you size up your eligibility. 
You can build a second housing unit within the existing lot if it meets these criteria:
It must be in a single-family residential zone.
It must be within an urban area (as designated by the U.S. Census Bureau).
It cannot be a historic property or be located in a historic district. 
It cannot be in a flood zone, fire hazard zone, or environmentally protected area. 
The above criteria must also be met for lot splits, with the following additional requirements: 
The original split lot cannot be the result of a prior SB-9 split or adjacent to an SB-9 split by the same owner.
The existing lot must be a minimum of 2,400 square feet.
The resulting lots must also be about the same size, or no more than a 60/40 split. 
The owner must agree to maintain one of the split lots as a primary residence for at least three years from the time of approval.
To prevent displacement, lot-split projects cannot alter or destroy units that have affordable housing designation; there are also restrictions around altering properties that were rented to anyone for the past three years. 
It's also important to note that SB-9 is an "either-or" provision when it comes to either having an accessory dwelling unit (ADU) on each lot, as allowed under current law, or splitting a lot and adding a single-family home or a duplex — without an ADU — on that new lot. Sound complicated? Realm can help. Our Advisors can walk you through your options and help you determine which path would be the best for you and your property. 
Potential benefits and drawbacks 
What if you could leverage your property's equity to earn some additional income while simultaneously investing in your community? SB-9 is designed to do just that, providing homeowners with a wide variety of housing development combinations to optimize their financial potential. 
For example, you could add a second housing unit to your existing lot to use as a long-term rental unit. Or if the pandemic prompted dreams of creating a multigenerational compound, the second home could be for extended family, whether aging parents or adult children.
If you're eligible to split your property, you could either sell off the new lot or keep it and build up to three rental units to ensure long-term income — altering your home to a duplex and adding a duplex on the new lot too. 
And while current state law allows homeowners to create accessory dwelling units (ADUs) and junior accessory dwelling units (J-ADUs) on their property, SB-9 allows for the development of new homes, either on a newly subdivided lot or through the conversion of existing single-family homes into duplexes. Effectively, this means you can build larger rental units — ADUs are generally capped at 1,200 square feet or 50% of the total living space of the primary home (and J-ADUs can only be 500 square feet). These accessory units are often created by adding an in-law unit or garage apartment rather than being constructed from the ground up. 
This ability to create more and/or larger units equates to greater sales or rental income as a return on your investment. And if you build a single-family home or a duplex with a distinct title, rather than an ADU/J-ADU, you'll also have a wider range of financing options.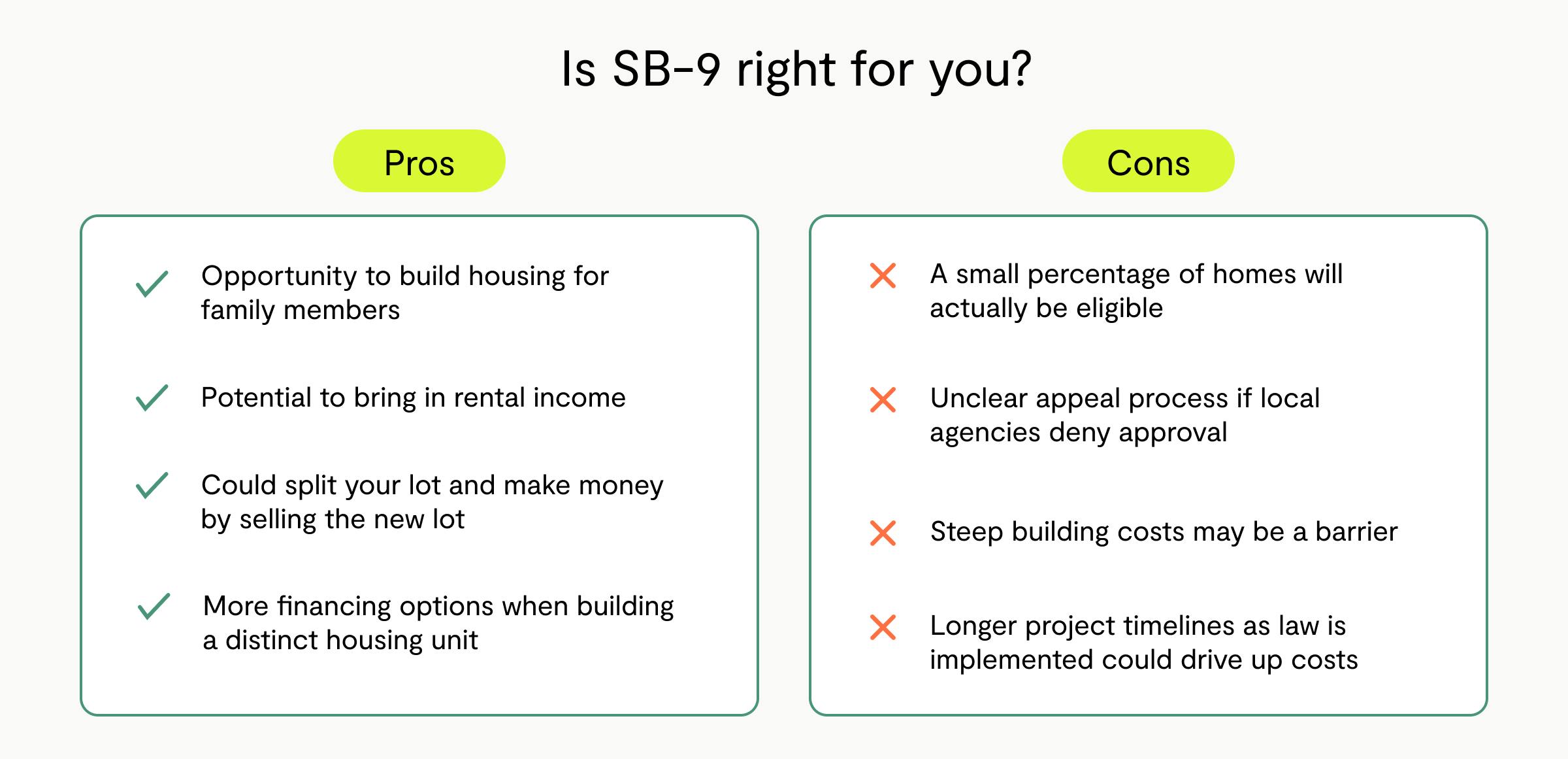 If all that sounds too good to be true, know that there are some potential downsides to SB-9 developments.
A recent study by the Terner Center for Housing Innovation at UC Berkeley estimated that just 5.4% of the state's current single-family lots have the potential to be developed under SB-9, either due to the eligibility requirements outlined above or other challenges discussed below. (This would still result in well over 500,000 new units.)
For example, it may not be feasible for certain homeowners to add multiple homes due to higher development costs and lower market-rate rentals and sales prices, which vary widely by locality (and even by zip code). You may also want to consider whether the increased housing density will square with your community and if yours would be the exception in a neighborhood full of single homes on larger lots. That said, once the law is better known and homeowners start taking advantage of its opportunities, others are likely to follow suit.
What's more, the owner-occupancy requirement could impose a financial hardship on a homeowner who may need to sell all four units to cover the development costs. On the flip side, this prevents more deep-pocketed second-home owners from developing additional units on their (sizable) lots. 
Furthermore, SB-9 will continue to take shape as various municipalities implement the provisions within their communities. This can result in delays when trying to obtain the necessary building permits until cities and towns become familiar with the rules and protocol. 
In particular, local agencies must approve an SB-9 development application unless they find that the proposed project would have a "specific, adverse impact … on public health and safety or the physical environment." That exception is therefore open to interpretation and it is unclear what the homeowner can do to appeal a denial, though that will likely be worked out over time. 
Proposals under SB-9 must also adhere to local zoning and design review standards, such as height and yard size requirements, setbacks, and placement. And unless the property is within a half-mile of a major public transit stop, a local agency can require up to one parking space per housing unit (a potential eyesore and space constraint).
Permitting aside, financing is another possible stumbling block until lenders become more familiar with and accepting of the law. Existing mortgage lenders, for instance, may object to splitting a lot, and new homeowners who have not built up equity in their current home may not qualify for mortgages on additional housing units. 
Ultimately, the learning curve among all parties is expected to result in lengthy project timelines and, accordingly, higher project costs. It's conceivable that you could have to wait many months before even breaking ground.
Who you'll need to hire 
Building a new home from the ground up is one thing, but doing so under a newly passed law is another. You will definitely want to retain a land-use attorney who is used to navigating zoning laws in your area; ditto a land surveyor to ensure you meet the lot size requirements, as well as local standards around the size and placement of the structure. 
You would also be wise to enlist the guidance of a mortgage broker or financial advisor who can help you obtain the requisite financing as soon as possible so you have a realistic budget from the outset. 
Other than that, your project is pretty much in line with any new construction in that you'll want to hire an architect and general contractor or an all-in-one design-build firm to create and execute on the design plans. Again, hiring local professionals who are already familiar with your zoning laws will make the process go that much more smoothly. 
Lastly, working with an experienced real estate broker can be the key to recouping your investment, both in making sure you are building for your specific market and in finding qualified tenants or neighbor/owners once the work is completed.
How can Realm help? 
In California, Realm's Advisors offer data-driven support and local knowledge, starting with preliminary research and project planning. And if you ultimately decide to build, our Advisors will be with you all the way through project completion. 
Your personal Realm Advisor will walk you through the different eligibility requirements and help you determine whether a two-unit development or a lot split with the potential for four units makes the most sense for your community and your budget. Part of this process can include comparing the various SB-9 options to established (and more straightforward) ADU/J-ADU opportunities, so you can find the best match for your property and your goals.  
Should you decide to pursue an SB-9 development, your Realm Advisor can provide cost and ROI estimates along with trusted financial guidance. We can also connect you with vetted lenders and the right trade professionals so you can commit to your path forward with confidence. 
What can I do now? 
Speak with a Realm Advisor to learn more about SB-9, discuss your options, and plan your next steps. Schedule a free consultation today!
Published by Realm
Get more out of your biggest asset: your home. Realm shows you what your home could be worth & how to access more of its potential value. View more posts