Everything you need to know about ADUs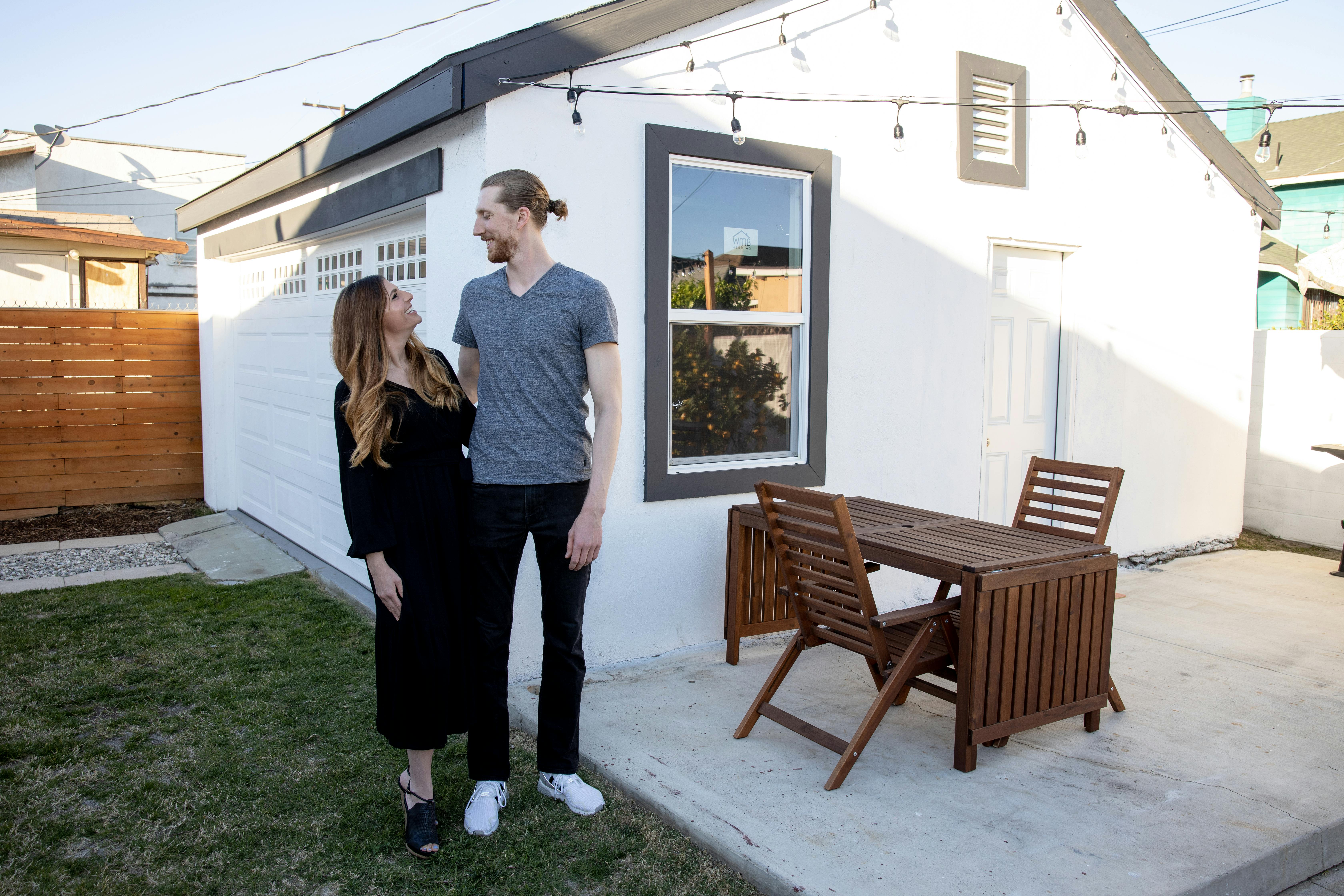 What you'll learn: 
What's an ADU? 
ADU zoning considerations
Which ADU is right for you? 
Key questions to consider 
With housing prices continuing their upward climb, you may be among the majority of homeowners who plan to remain in your existing home for the near future. But that stay-put reality might have you pining to create additional living space to accommodate lifestyle changes and/or achieve financial goals — whether that includes having a designated home office or backyard gym, housing aging parents with extra privacy, or providing long-term flexibility for a growing family. 
Good news! Depending on your location, accessory dwelling units (ADUs) can let you accomplish all those wish-list scenarios and more — including generating supplemental income through a monthly rental unit and potentially adding value to your home.
These secondary residences have been gaining traction as one answer to the affordable housing shortage, with cities and towns relaxing their zoning rules and regulations. And because so-called in-law suites enable elderly or other extended family members to be near their caretakers, ADUs are seen as a win-win for society and homeowners alike. 
Whatever your motivation for adding an ADU, know that your decisions will depend on your local zoning laws — and your budget. Read on for the down-low on using an ADU to unlock your home's value. 
What's an ADU?
The easiest way to think about an ADU is as an independent residence on your property, with all the elements of a functional home. You can't sell an ADU on its own (that's why it's called an accessory unit), but you can usually rent it — again, affordable housing for both tenant and landlord is a primary purpose behind ADUs.
ADUs fall into three basic categories: internal, such as a finished basement; attached, including a garage apartment or first- or second-story addition; and detached, which are standalone structures like a cottage or casita. 
No matter the type, ADUs can be created by converting an existing space — say, an internal attic or a detached garage or shed — or with brand new construction. Conversions tend to be the most affordable option, but not everyone has convertible spaces. That's when you may need to add an extension to your main house or build from the ground up. 
All ADUs must have a bathroom and kitchen. That means your ADU will require utility hook-ups — sewer, water, electrical, and gas (if you have a gas appliance). They must also be winterized, with some form of heating.   
Note: If you're a single-family homeowner in California, the state allows you to add a junior accessory dwelling unit (J-ADU) in addition to a full ADU (heeding local zoning laws). A J-ADU must be internal to the home or attached garage and be no larger than 500 square feet; the unit must have a kitchenette (at minimum) and a bathroom may or may not be required.
What's more, ADUs almost always require a building permit and you will need to comply with local zoning guidelines. For example, the rules may stipulate the size, style, placement, and use of the ADU as well as things like parking and number of occupants based on the ADU's size. (More on these requirements below.)
Ready to unlock your home's value? Head to your Realm project planner to see how different types of ADUs stack up in terms of estimated costs and impact on your home's value.  
Explore ADUs for your home
Zoning considerations
Chomping at the bit to build a guest house or rental apartment? Your first step is to find out if an ADU is allowed where you live — not every state allows them — and if so, what's considered a lawful ADU. 
If your state does allow an ADU, the requirements will be dictated by zoning laws, which are enacted and enforced at the city, town, or village level. You may be familiar with zoning in terms of having commercial vs. residential neighborhoods (i.e., zones!). But zoning also governs what and how you can build on your own property. These specific ordinances include setbacks, which  refer to the minimum distances all buildings must be from property lines, and height restrictions.
To get information about your zoning laws, check with your local department of housing (or its equivalent, sometimes called economic or community development), or call your town/city offices. Consulting with an experienced contractor and/or an attorney who specializes in zoning law can also help you navigate a confusing process, with unfamiliar jargon.
Realm tip: Don't be tempted to invest in an ADU without doing your homework. You'll be putting yourself at risk of paying severe fines or construction costs in getting the structure up to code — or having to remove it entirely. 
In the meantime, here are some of the more common ADU requirements. These are just a sampling of regulations you could encounter. And you should remember, of course, that the rules will vary depending on your location: 
Typical property requirements
Most locations limit homeowners to just one ADU per lot.
Your lot may need to meet minimum square feet and width provisions. 
Setback requirements necessitate the ADU to be a specified distance from the property line; setbacks can also restrict the height.
Typical ADU requirements 
The typical size limit for ADUs is 1,000 to 1,200 square feet.
A bathroom is a must, but you might have leeway in the type of kitchen that's required — e.g., a fully functional kitchen or just a sink and a stove.
A separate entrance may or may not be required; same for adding a parking space.
Typical residence requirements
ADUs are often allowed only if the main house is your primary residence. 
Long-term rentals are typically allowed but not so short-term rentals like Airbnbs, which may be prohibited or restricted to a certain number of days per year. 
Once you've determined your local framework, you can begin to explore your options for internal vs. attached vs. detached ADUs. 
If for instance your lot doesn't meet the minimum size, you may only qualify for an internal conversion or perhaps a smaller attached ADU. On the flip side, if a separate entrance is called for, you may not be able to accommodate that by converting a basement or attic. 
Know that zoning laws are not set in stone. Towns might make exceptions when there is a valid reason to do so — for example, if your property borders a river or stream, which might make a setback less important than if you shared a property line with your neighbors. 
What's more, some towns will grandfather existing structures, meaning you may be able to convert a garage to an ADU even if it doesn't meet setback requirements for new builds. 
Finally, though not as common, some towns or homeowner's associations put parameters around the acceptable style of ADUs to ensure they match the neighborhood aesthetic — no modern prefab, for instance, in a community of craftsman bungalows or Victorian cottages. 
That's why your best bet is to discuss your plans with your local zoning board from the get-go (and to work with a pro who knows the lay of the land).
Which ADU is right for you? 
Even towns that allow ADUs sometimes limit the type to one or another. Some locations (especially in densely populated areas) only allow internal conversions, while others allow internal and attached ADUs. In locations that only permit detached structures, the ADU may need to be a specified distance from your main house. 
If the sky's the limit where you live, how do you decide which type is the best one for your situation? It often boils down your goals and budget. Any ADU is going to cost money to build and maintain. 
Here's how those considerations break down by ADU type: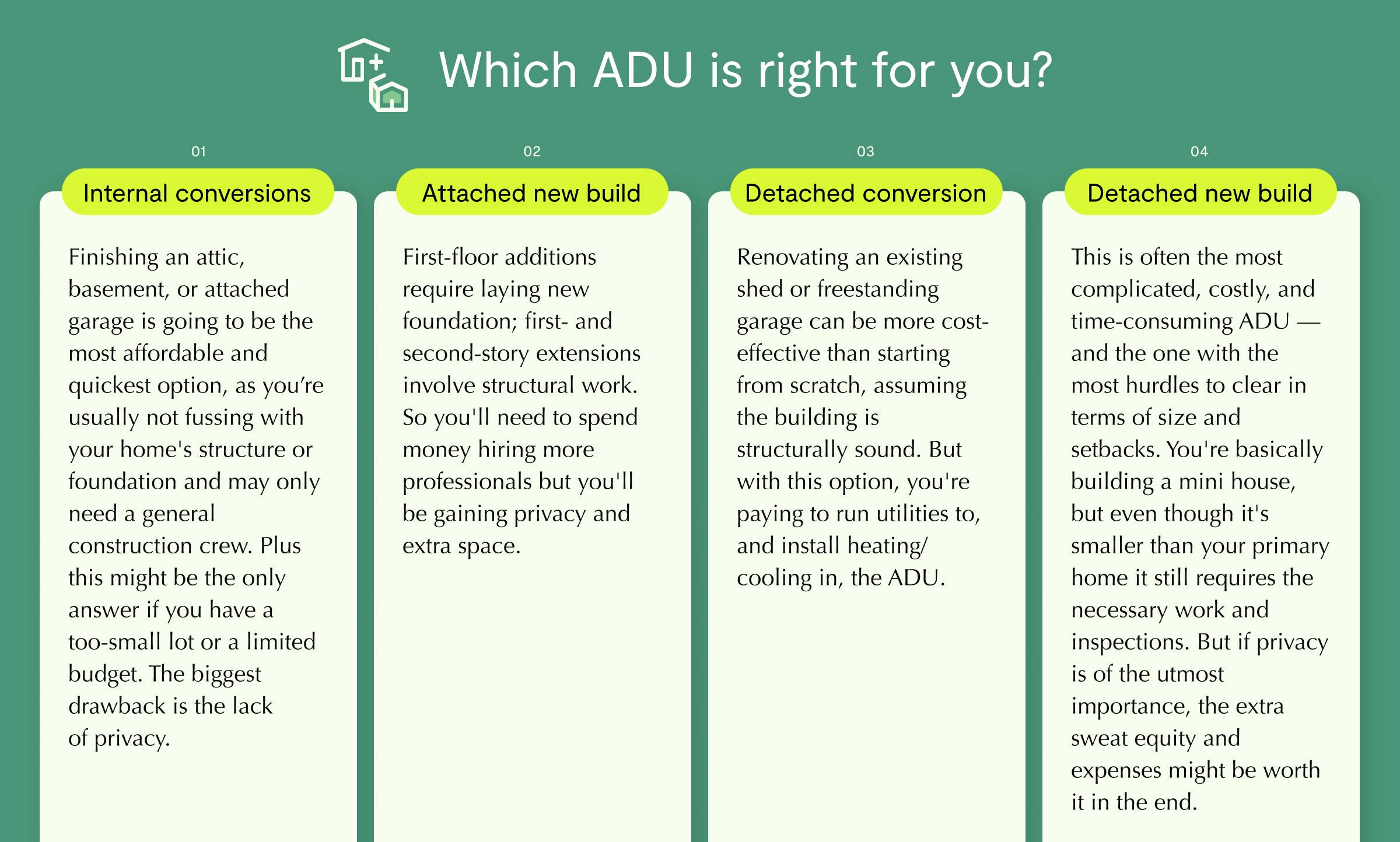 As you weigh your options, you'll want to keep the project's ROI top of mind. Low-cost ways of adding living space, like conversions or additions that don't impact the original structure, are among the projects with the highest ROI potential. In particular, finishing a basement or attic, and converting a garage rank as top investments with high returns.   
Of course the ROI for any home improvement is ultimately determined by your specific property and locale. Your Realm dashboard lets you explore different types of ADUs by providing accurate project cost and ROI estimates. 
Key questions to consider  
Ready to use an ADU to unlock your home's value and create more living space? Walk, don't run, into any project. And ask yourself a few questions to help you match the right project to your priorities.
How much will the ADU increase your monthly utilities and heating/cooling costs? Make sure you can afford these recurring increases. 
Are you adding an ADU for the rental income? You'll want to figure out if the build and upkeep costs will offset any potential gains, especially if you only plan to do short-term rentals in a location that limits the total days per year. Remember too that you may be able to deduct a percentage of maintenance costs on your federal/state tax returns, though you'll also need to pay taxes on the rental earnings. (Talk to a financial advisor about the specifics.) For any kind of rental, you'll likely want to prioritize privacy and square footage (especially for capturing more rent) in a detached ADU.
Is the ADU going to be used for multi-generational housing? Similar to a rental, that's going to require more routine maintenance than if used as a home office or occasional guest house. Privacy might be paramount, as is having a ground-floor (and fully accessible) unit. 
Will the ADU impact your property taxes? That depends on your county; any increase will be based on the value of the ADU — generally speaking, the bigger the ADU, the higher the value and the more taxes you'll pay.
Ultimately you may not put a price on having your aging parents (or growing grandchildren) close by, or of being able to work from home in a designated home office. Though it's still wise to keep the return on your investment in mind. Realm is here to help. You can explore and customize potential projects on your free dashboard, making it easier to decide if an ADU is the right choice for you. 
Published by Realm
Get more out of your biggest asset: your home. Realm shows you what your home could be worth & how to access more of its potential value. View more posts