4 ways to add space to your home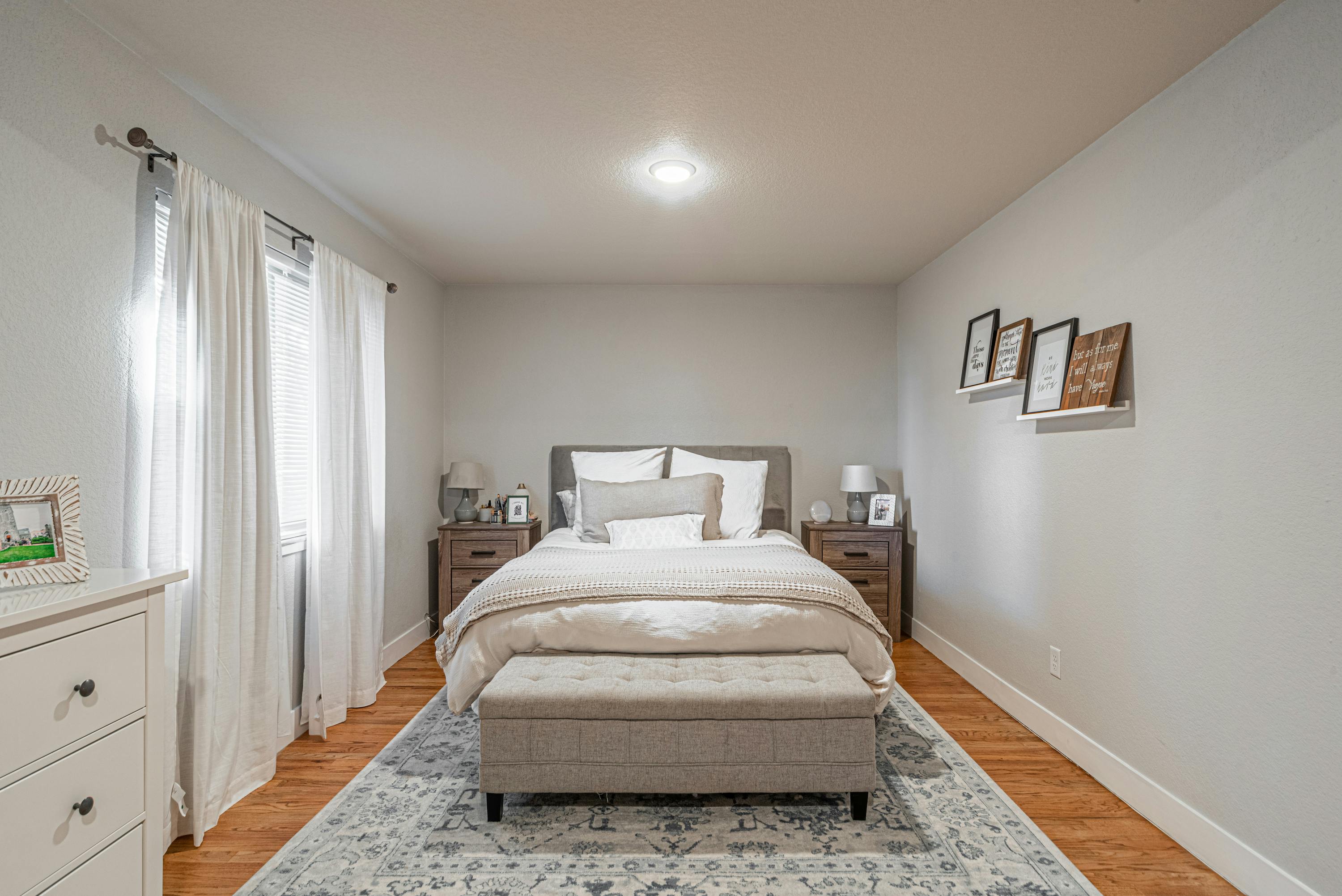 What you'll learn: 
Common ways to add space
What can you build?
Cost and design considerations
Weighing your options
Is that seemingly cavernous house you bought suddenly cramping your style? Outgrowing your living space is frustrating, especially after creating an environment to suit your family's every need. That said, things inevitably change. Couples decide to have kids; babies who need no space at all morph into teenagers who crave tons of privacy; or someone decides to launch a home-based business. Any of these changes present real reasons for expanding. Plus, with more homeowners than ever living, working — and, over the past few years, schooling! — within the very same walls, it's no wonder increasing your family's living space is an attractive home-improvement option. 
There are multiple ways to tackle the task of adding space. Luckily, as a homeowner, you've got four basic options to consider: a first-floor addition, a second-floor addition, a garage conversion, or an accessory dwelling unit, also known as an ADU. Here, we'll walk you through your options and help you decide which might be the best for you and your space. Remember, adding space is a great way to improve your current home while adding value in the process. So dive in, have fun and rest assured: Working with what you've already got is a smart way to maximize your enjoyment of time at home — no matter how you spend it!  
Common ways to add space
Whether building on your existing footprint, defined as the area enclosed by the external walls of your current structure, or expanding through new construction, adding space can take multiple shapes — literally! Here's an overview of the four most common options:
First-floor addition: Adding a room — or multiple rooms — to your existing first-floor footprint is a common consideration for homeowners looking to add space. Popular first-floor additions include expanding hard-working spaces, like kitchens and mudrooms, or adding new spaces — say a sunroom, home office, or additional bath. 
Second-floor addition: Adding a second-story addition is a huge investment, one that stands to double your living space when it comes to square-footage. That said, turning a one-story home into a two-story home — with the addition of extra bedrooms and bathrooms or the construction of the primary suite of your dreams — is a complex undertaking.
Garage conversion: Bonus garage space, steps away from the main house, racks up huge points with teenagers and work-from-home parents who want to be on site (but not in sight!) when it comes to being in the middle of a busy household. If you're ready to bid farewell to your occasional parking space (or dusty storage place for unused skis and such), you might just hit the jackpot here. 
ADU: Accessory dwelling units come in different forms. Officially, they're defined as any dwelling on the same lot as a single-family home and used as an independent residence, including detached and attached structures. These units provide privacy with proximity to your primary residence, making them a great way to add space for members of your household, or as a place to house extended family or renters. Whether attached to or standing separate from your home, ADUs come in all shapes and sizes — from basement in-law apartments to prefabricated tiny homes, and various options in between. 
What can you build?
If you're considering whether to add space, it's important to know your limitations. Residential zoning laws, designed to restrict the ways in which property is developed and used in certain neighborhoods, are a good place to start. These laws — along with building codes and HOA rules — ultimately determine what you can (and can't) build on your property. 
When researching your local zoning laws, it's helpful to compile a list of basic questions. "What can I build?" is one of the first questions you should ask when considering which space-adding option might best suit your property and your needs. The following questions can also reveal helpful information that will inform your plans:
Are ADUs allowed in my neighborhood?
What are the setback restrictions? (Defined as the distance a structure has to be from your property's boundaries.) 
What are the height restrictions?  (Defined as the distance between a building's graded ground level and the highest point of the roof.)
Do I need a building permit for my chosen method of adding space?
Where can I get a copy of the local zoning laws? 
As you research, don't get discouraged! Knowledge is power. If you can't build an ADU because of local zoning laws, it's good to know that option is off the table. Similarly, if there are setback restrictions that would prevent a first-floor addition, you'll want to know ASAP. Check out Realm's project planner, which includes dozens of potential projects and shows you what's allowed (and what's not) when it comes to adding space to your home.
Explore projects that add space
Cost and design considerations
Each option for adding space comes with its own unique challenges and financial picture. Before getting into the nitty-gritty details, you'll want to consider the following:
What's your budget? Knowing how much you have to spend is key, and building in a cushion — to account for unexpected costs — is recommended. 
Who will do the work? Unless you're a very ambitious DIY'er, a professional is likely in order. Do your research, seek referrals, and keep in mind labor costs on a large project like a home addition can make up 30-50% of the total price. 
Does it pay, in the long run, to add space? Unless you've found your forever home, it's important to determine if you stand to recoup the cost of adding space if/when you decide to sell your home.
With these three questions in mind, you can assess the four most common ways to add space to your home. 
Option #1: First-floor addition
Pros: Because the size of your home is the biggest factor in determining its sale price, building an addition is one of the most effective ways to add value. First-floor additions also allow homeowners to expand cramped or high-use spaces like kitchens.
Cons: First-floor additions require expanding your footprint, which means everything from pouring a new foundation to constructing new walls is required. Then, real considerations — like matching siding and connecting roof lines, to tie the existing home and new addition together — must be factored into the overall time and money needed to add space this way.  
Option #2: Second-floor addition
Pros: Building up not out, while remaining in the home's existing footprint, makes second-floor additions an excellent option for homes situated on small lots or in close proximity to the neighbors. 
Cons: Most foundations for single-story homes are not designed to shoulder the weight of a second story. If building up is your only option, an engineer will need to assess what reinforcements are needed to proceed — and both the additional expertise and the additional construction have the potential to add significant cost to an otherwise space-saving option. 
Option #3: Garage conversion
Pros: This option, hinging largely on remodeling as opposed to building, puts the structure's existing footprint to use. This alone can cut down on time, complexity and — perhaps most importantly — the cost often associated with adding extra space.
Cons: Chances are, if you're considering adding space via garage conversion, you've decided your garage is untapped real estate. While you may be ready to bid farewell to your occasional parking spot, if you live in a region with snowy winters or blazing summer heat, this may deter potential buyers should you choose to sell down the road. Plus, some zoning laws require homes to have a garage or other covered parking — so do your homework by double checking!
Option #4: ADU
Pros: What's not to love about separate quarters for guests or a space that offers independence for aging family members who still require assistance? Plus, ADUs can generate passive income when used as rentals. Retirees or empty nesters who downsize to an ADU can earn even more income by renting out their primary residence
Cons: Adding an ADU can come with extra hurdles, like rules that dictate how many parking spaces you must provide. That said, considering their growing popularity, issues of zoning, permits, and property laws continue to be the biggest roadblock for homeowners when endeavoring to build an ADU. Ditto for community restrictions on short-term rentals.
While garage conversions are by far the most cost-effective way to add space, ADUs have the biggest cost range. Still have questions about the dollars and cents of expanding? Use Realm's project planner to get accurate pricing estimates and explore how adding space can impact your home's value.  
Weighing your options
In the end, it's important to revisit your goal for adding space in the first place. If you're looking to create a multigenerational living space — where you can support a young adult craving autonomy or an aging person needing additional support — then an ADU may be the way to go. Ditto if you're looking to create a bit of passive rental income from your additional space when it's not being used. Short on time and looking to expand ASAP? Finishing an unfinished area of your home, in this case via a garage conversion, will yield the quickest results. From design to completion, a first-floor addition typically takes 5-9 months while a full second-story addition requires 6-12 months to complete. Finally, creating an aesthetically seamless addition is an important consideration. Blending the architecture of your current home and addition, or complementing it in the case of an ADU, can go a long way toward your overall satisfaction with the project. When you plan projects with Realm, you can customize them to see how different finishes and materials will impact your budget.
No matter the specifics, adding space is a complex undertaking — and there's no one-size-fits-all solution. That said, adding space is a huge investment in your family's quality of life. Plus, it can add serious value if and when the time comes to sell. Once you settle on an option, relax, enjoy, and plan for (more) change. Wherever possible, make decisions — about finishes, fixtures, and floor covering — that are fluid and can adapt to various uses (think kids' playroom turned space for streaming and projecting movies as they get older; same goes for home office turned guest room, or vice versa, depending on who needs to do what, when!).
In the end, it's all about striking a balance between your goals, what's allowed, and what you can afford — and growing, both literally and figuratively, through the learning process. 
Published by Realm
Get more out of your biggest asset: your home. Realm shows you what your home could be worth & how to access more of its potential value. View more posts