Jennifer and Chris: Creating an outdoor paradise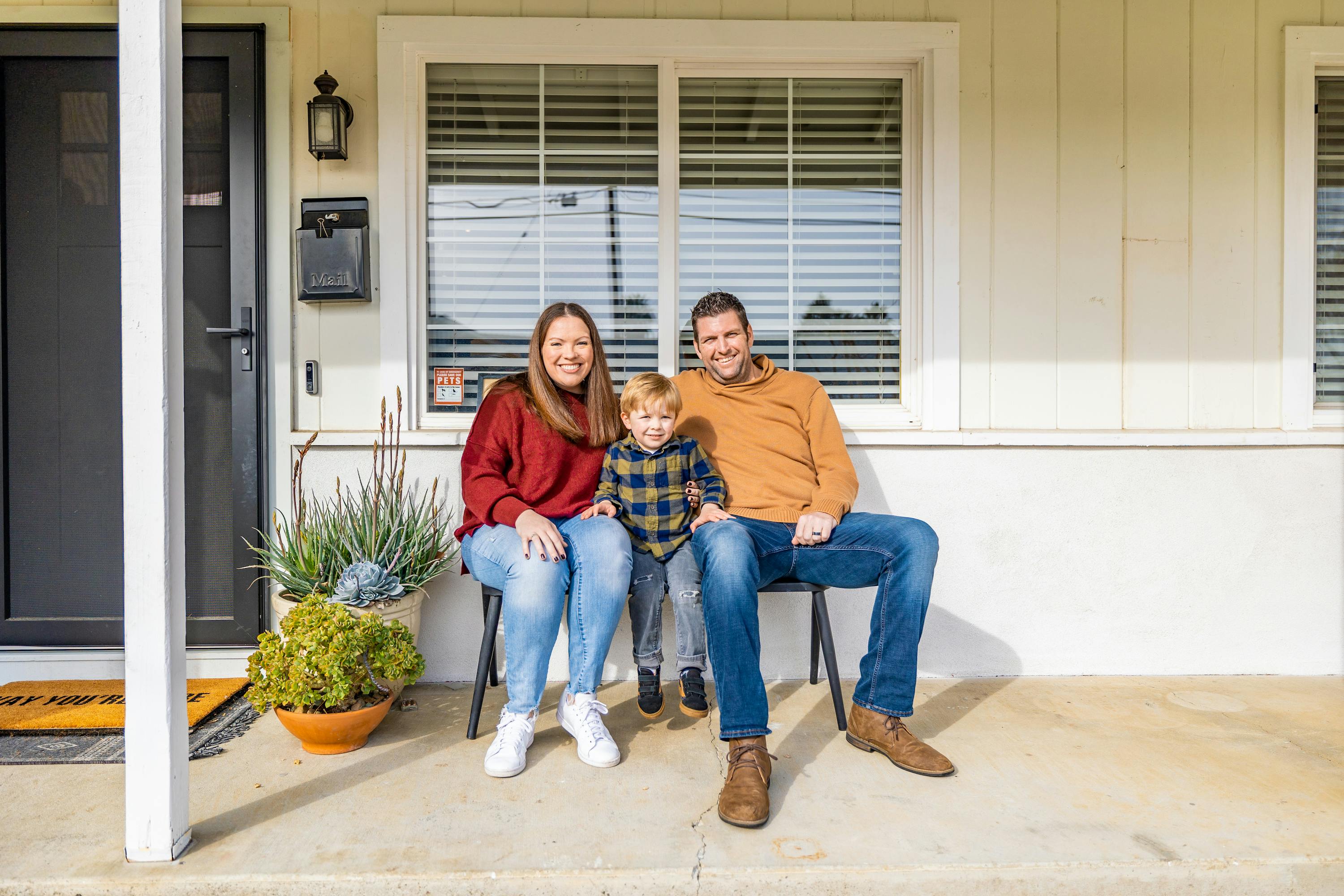 Meet the homeowners: Jennifer, a high school teacher, and Chris, who works for a robotics company, live with their three-year-old son and their giant dog. 
Their goal: Transform their large but disheveled backyard into a beautiful, comfortable space where their son and dog could play and they could entertain family and friends.  
In 2016, Chris and Jennifer got news no one wants to hear, especially if you live in a competitive housing market like the Bay Area: they had to move. At the time, they were renting a two-bedroom, 1-bathroom home from a friend. But the friend decided she wanted to move back into the home — so Chris and Jennifer had to find another option. 
As it turned out, moving had actually been on their minds. Chris and Jennifer wanted to get a dog and, eventually, start a family, so they needed more space. They had been saving up to buy a place, but even before the pandemic-era housing price spike, homes in the Bay Area were expensive. For about six months, while they searched for something in their budget, they stayed with Jennifer's parents, who live nearby. Finally, after losing out on several offers, they found a home in Concord, CA that fit the bill: a 3-bedroom, 2-bathroom ranch that had been recently renovated. 
The property also had a key feature — a large, 2,000-square-foot backyard. Chris and Jennifer, whose parents, siblings, and friends all live in the area, love to entertain. But while the inside of the home was move-in ready, the yard needed work. There was a pergola over an old Jacuzzi, a concrete slab, a brick patio, a tin shed, and no grass. "It was just a dirt pit," says Jennifer. All in all, it wasn't very functional. But the couple felt the yard had potential. "I looked at it and was like, all right, there's a canvas, right? There's a ton of stuff we could do out here," says Chris. Jennifer agreed. "I thought, okay, this will be a project for a little down the line," she says. "We were excited to be able to do that without really knowing what that meant."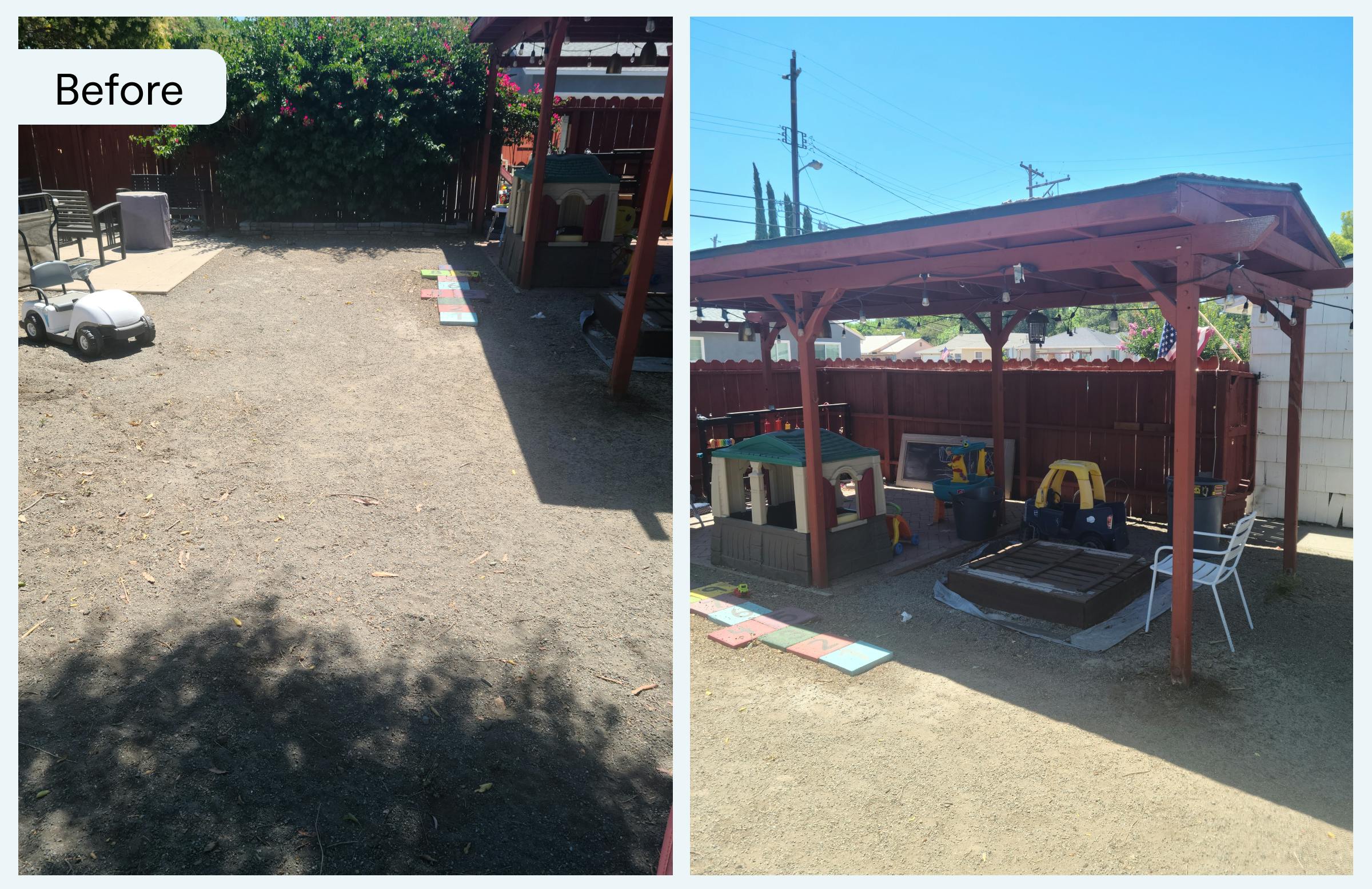 That was more than five years ago. Since then, Chris and Jennifer got that dog — a boxer-German shepherd mix, weighing in at more than 100 pounds! — and had a child. As their son grew and started walking, they found that they really needed the yard as extra living space. That became even more apparent after spending so much time at home during the pandemic. 
Last summer, they refinanced their home with the goal of using about $20k to makeover their yard. "The problem we were running into was that we just did not know where to start," says Chris. After doing a lot of time-consuming research trying to figure out how to tackle the project, he ended up hiring a yard service that put together a design plan. But the design didn't fit their budget. It wasn't even close. Realm estimates that implementing those designs would've cost about $60k — three times Chris and Jennifer's budget! And they weren't any closer to actually getting the project done. "Yeah, if we had an infinite amount of money, it'd be awesome to do everything they put into the design," says Chris. "But we were like, we want to get it done and we don't know what to do." Jennifer was also discouraged. "It almost felt more frustrating to be given a cool plan with no idea who to contact to take the next step."
It was around this time that Chris discovered Realm. When he did, it felt like a huge weight had been lifted. "Finding Realm was such a godsend because now I had an Advisor that could spearhead everything," says Chris. "To go from throwing darts at a wall, like seeing what sticks, to let me hold your hand and show you how to get this done — that's what Realm did." 
The first thing Realm provided was a comprehensive report with local zoning laws, financing options, and a detailed pricing breakdown for different components of their backyard plans, including demolition, landscaping, and hardscaping. Chris was pleasantly surprised to discover that Realm really took their budget and their goals to heart. "I honestly felt like our Realm Advisor was the first person who actually listened to what we wanted to do, as opposed to saying this is what you should do."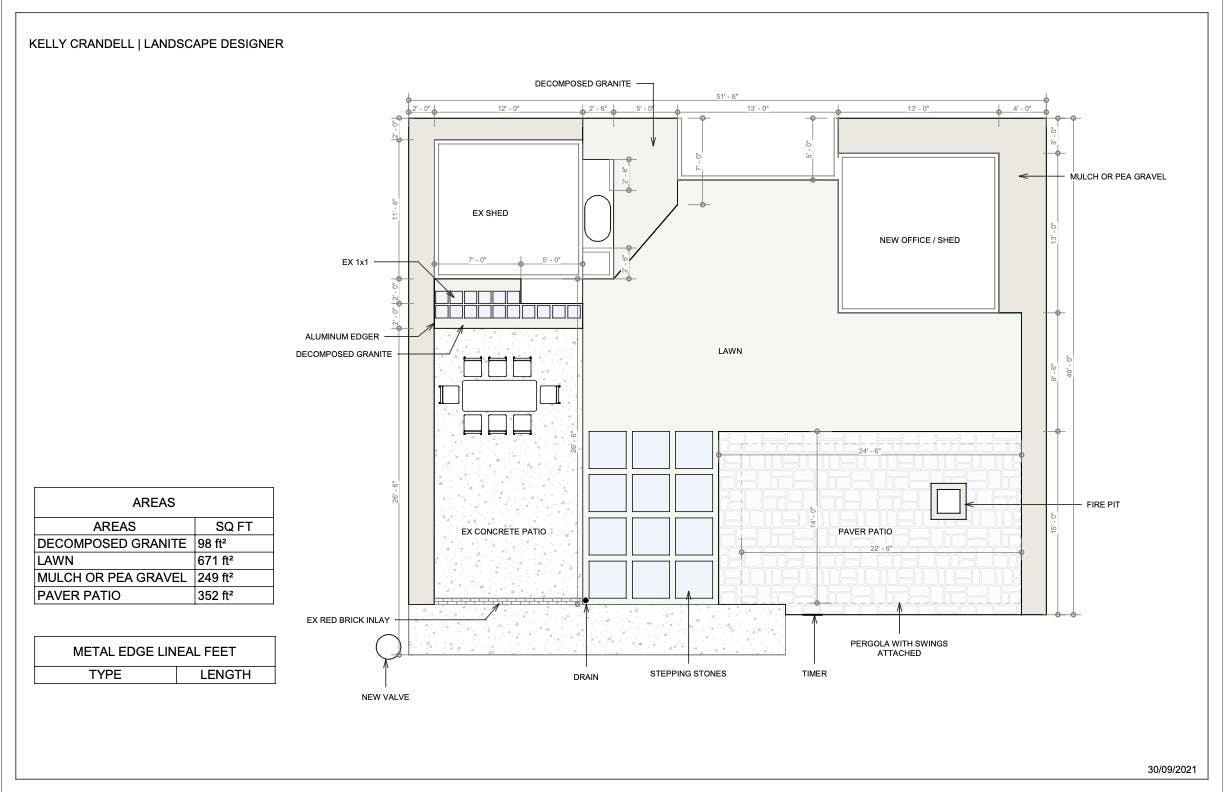 Since Chris and Jennifer already had a design in hand, the next step was to find the right vendor. Before finding Realm, Chris had spoken to (and been disappointed by) so many people. So when their Advisor, Amberly, connected them with a potential vendor, they could tell right away that he was different. "He said, okay, I'm gonna be 100% honest with you. I know your plans, I know your budget. They don't mix," Chris remembers. But instead of just saying the design wouldn't work, the contractor presented them with options to achieve their goals. For instance, using real grass instead of artificial grass would save some money. And they could swap in pavers for stamped concrete to cut additional costs. He was even able to provide guidance about which materials would be in stock, so their project wouldn't be held up by supply chain issues. 
Although Amberly offered to connect them with other potential vendors, Chris and Jennifer felt confident they had the right person for the job. They were finally going to get their new backyard! 
They continued refining their plans with the contractor, and then in October, just before they were scheduled to break ground, the Bay Area got hit with unseasonable rainstorms. Chris and Jennifer had mentioned to the vendor that their yard had some drainage issues. The rain gave them the chance to show him. "We were able to send him a picture of a literal lake in our yard," says Jennifer.  "He was able to pivot and design around that, too."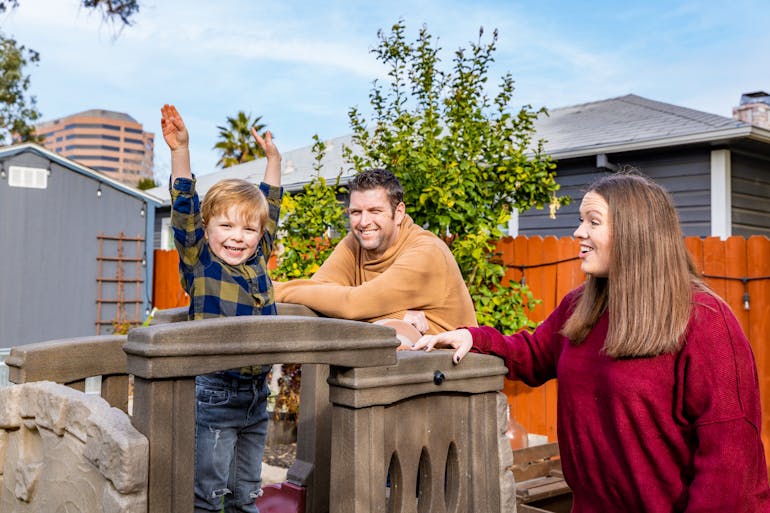 The contractor got to work shortly after. Although they had heard nightmare stories from friends and family about projects taking much longer than expected or contractors who didn't communicate during the process, Chris and Jennifer experienced none of those issues. "We were shocked at the ease and efficiency and how responsive he was," says Jennifer. In the end, the project was completed in less than two weeks — just in time for Chris and Jennifer to have people over for Thanksgiving. Plus, with their contractor's creative solutions, they managed to stay close to their original budget.  
| | | |
| --- | --- | --- |
| Original budget | Realm cost estimate | Final cost |
| Approx. $20,000 | $22,000 - $26,000 | $23,000 |
Today, their yard is a haven for their family. Their son loves it. Their dog loves it. And when the weather warms up, they plan to spend lots of time outside with friends and family, enjoying their beautiful new space together. Not only that, but working with Realm was such a success, they're planning to work with an Advisor on their next project — a backyard office. "I don't have to make a hundred different phone calls or go through a hundred different bid processes," says Chris. "For me, having the ability to basically say this is my vision and this is what I wanna do, and then having Realm make it happen makes my life so much easier."
Published by Realm
Get more out of your biggest asset: your home. Realm shows you what your home could be worth & how to access more of its potential value. View more posts