Why pay for new leads, when you can reconnect for free
Realm helps you turn past clients into repeat & referral business by catching their attention every single month with our Reconnect reports. We send out co-branded reports that include details on what local renovations cost & which are the best investments, all customized specifically for the client's home.
We take care of everything, and you get the benefits of increased repeat & referral business and more time back to win more listings. Plus, it's free to use!
How it works:
First, we'll let your client know you've opted them in.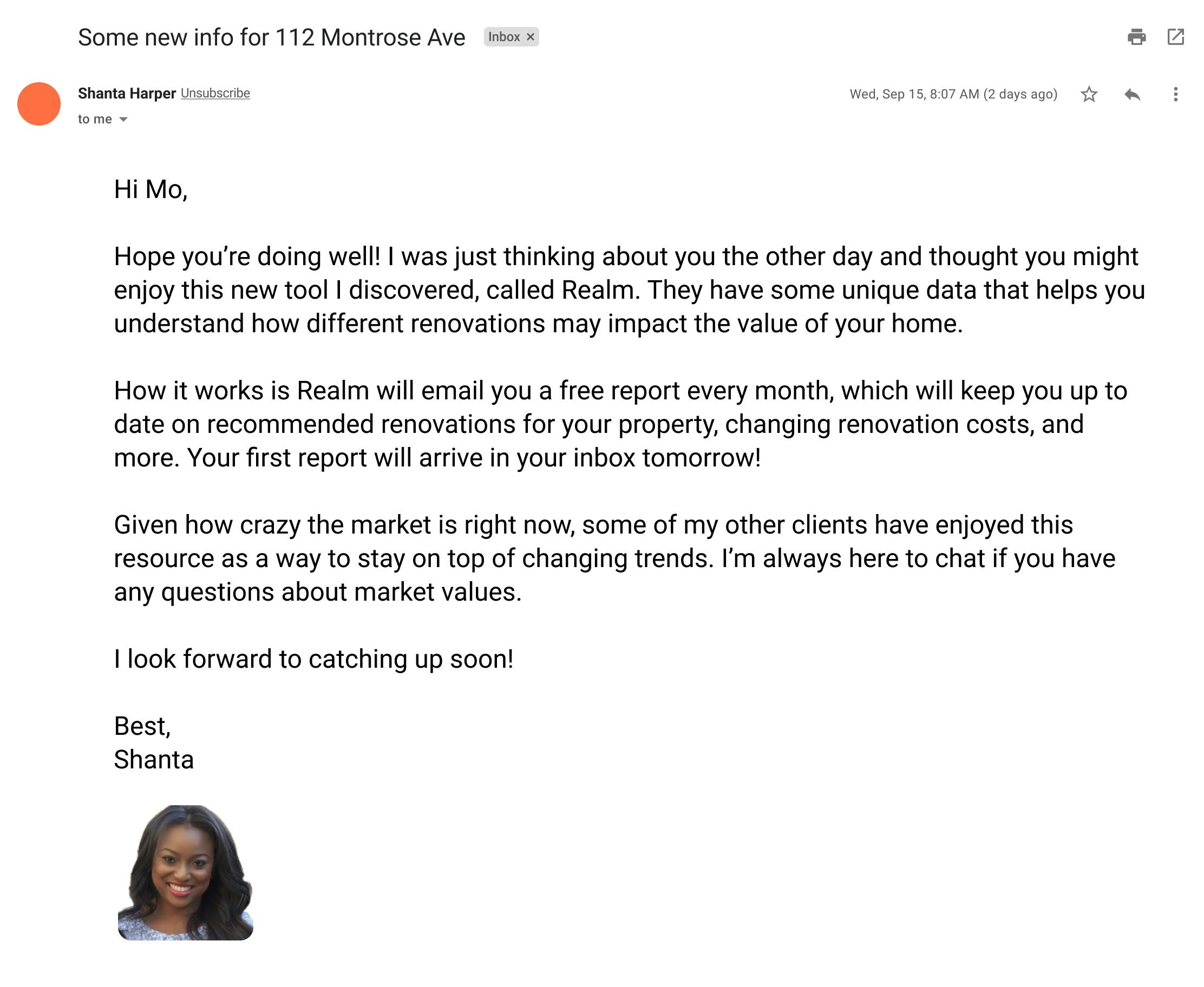 Then, we'll send them a monthly update focused on what's selling nearby & what renovations are right for their home. We always have an option to reconnect directly with you to discuss buying or selling.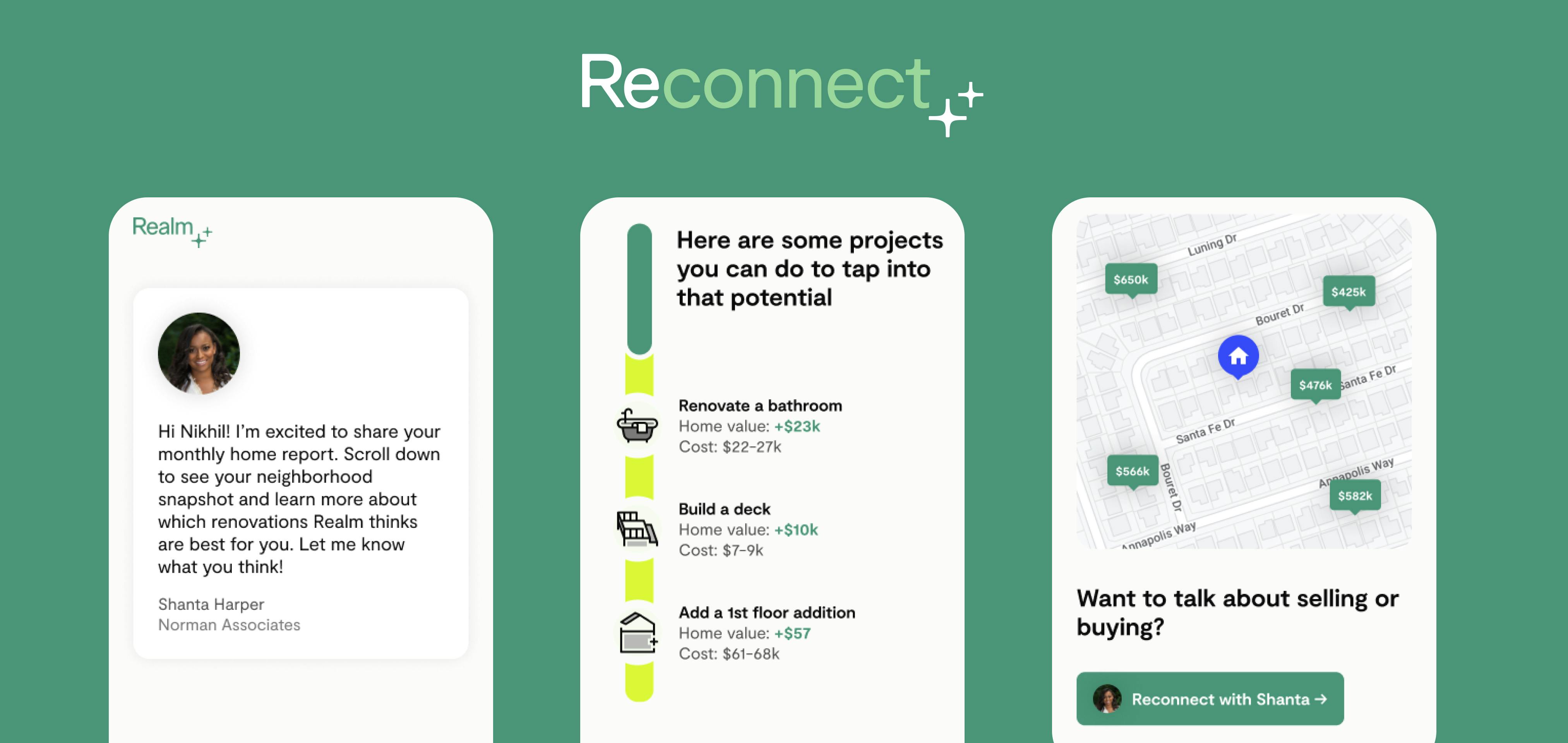 Every message is co-branded so you stay top of mind for referrals.
Ready to get started? Email us your client list at [email protected] or book a 1:1 demo to get your questions answered.
Frequently Asked Questions
How much does it cost?
It's free!
How long does it take to launch it for my clients?
5-7 business days. Once we receive your list, we go over it to ensure we have all the information needed to get started. Once we finalize the list, we will launch the automated monthly report on behalf of you to your clients.
Who has access to my data?
Your privacy is important to us. Your data is for the sole purpose of connecting you with your clients. We will never share your personal information or your client's personal information to third parties.
How will I be notified if my client creates an account with Realm?
If a client creates an account with Realm, we will notify you via email (or text if you've opted into text updates) so you can continue to build your relationship with your client.
How long does it take to launch it for my clients?
5 business days. Once we receive your list, we go over it to ensure we have all the information needed to get started. Once we finalize the list, we will launch the monthly report on behalf of you to your clients.
Can my clients unsubscribe from the Reconnect reports?
Yes. All emails will have an unsubscribe link where your clients can opt-out of the emails. 
Can I freeze my Reconnect reports?
Yes. If you are interested in freezing or unsubscribing to the automated monthly updates, just email [email protected].
What is needed in order to start?
We just need your name, email, and headshot and your client list including name, property address, and email. This can be sent via a csv. File. Once you send that information over to us, we take care of the rest!
Will my clients receive other emails from Realm?
No, they will only receive the email you have opted them into which is the Realm Reconnect report specific to their property unless they opt in to more.
Can we send clients we are prospecting?
As of now, this service is only for clients you have a relationship with as each report is specific to your clients property and the email is being sent out on behalf of you with the intention of you having a relationship with this person.
What happens after I send you my information?
After you send your contact information, headshot, and client data. We import all your contacts into our database to attach your client's information to yours. Once that has been done, we will send a welcome email on behalf of you and within the next following days, the custom report is sent out on a monthly basis. Your information will not be shared with anyone else or sold.
How about if my clients are asked about the data on their report?
Don't worry about that! You have a dedicated agent's partnerships manager that can answer all your questions regarding your client's data. You focus on building the relationship with your client, and we will assist your client in interpreting their report.
How do you make money?
We are a venture-backed business; and our #1 priority is to create a product that both homeowners & our partners love. Right now, we only make money in California where we connect qualified homeowners with a curated list of top-quality vendors to complete their renovations. The vendors pay us a referral fee for each project.
Where do you get the data?
Our data platform recently won us TIME magazine's award for 2021's Best Inventions. We've built the most comprehensive database on single family homes in the US, bringing together data we've purchased (e.g. building permits, listing history, tax assessments), data we've collected (e.g. zoning rules, HOA rules, tax incentives), and inputs directly from our customers (e.g. bids from contractors, descriptions from agents, photos from homeowners).
How do I know the data is accurate?
We take data quality very seriously. We are constantly validating our data with inputs from customers, such as recent bids they've collected, and from our data partners, such as sale prices and mortgage assessments. By focusing on understanding all the components that go into a home and collecting inputs directly from homeowners, contractors & agents rather than solely relying on incomplete public data sources, we've built a much more accurate data engine than other real estate tech companies.
What if two people enroll the same client?
We operate on a first-come, first-serve basis. We verify that all addresses enrolled for each agent are past clients to keep the system fair.
Who can I go to if I have additional questions?
We are always here to help! If you have additional questions, feel free to reach out to our agent's partnerships manager at [email protected].
Published by Realm
Get more out of your biggest asset: your home. Realm shows you what your home could be worth & how to access more of its potential value. View more posts